These jewl-themed placemats are fast and easy to make.

We used the design Folk Flower, embroidered in different colors.

The finished size of each place mat is 13" x 17".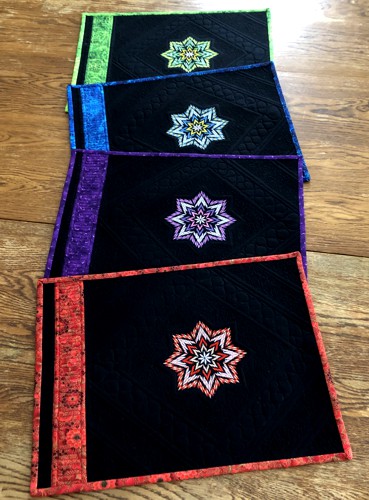 You will need :

embroidery threads either polyester or rayon - choose hues to your taste,

1/2 of black fabric for 1 placemat, this includes the top and backing;

small amount of red, purple, blue, green fabrics for the top and binding;

light-weight cut-away embroidery stabilizer;
batting;
quilter's ruler;
rotary cutter;
iron;
#12 universal needle;
quilting threads ( black, and the colors of the fabricss you use);
#12-#14 quilting needle.

Cutting for 1 Place Mat:
Out of black fabric, cut

a piece measureing 14" x 15",
another piece measuring about 15" x 19" (for the backing),
a strip measuring 2" x 14".
Out of colored fabric, cut a strip measuring 2" x 14". Use the remaining colored fabric for the binding.

Out of backing, cut a piece measuring 14" x 19".

Assembly:

Note: seam allowance is 1/4", press the seam immediately after you make it.
Sew the colored 2" x 14" strip to the left edge of the 14" x 15" black piece.


Sew the black 2" x 14" strip to the colored piece. The top is ready.


Embroidery

:

Select threads. If you have embroidery software, check your colors with it. If you do not have embroidery software, use our color card as a guide: use lighter colors where we use lighter ones and darker ones where we use darker ones.

It's also a good idea to make a test stitch-out before you embroider the design on a finished place mat top.

Mark the position of the embroidery approximately in the center of the black part.
Stabilize the chosen area. Hoop the fabric tightly and embroider the design.

Quilting and Finishing

Now place the backing on a flat surface (table) face down. Cover with batting. Spread your working piece over it.

Pin all layers together.

We quilted in a free-motion style all over the place mat.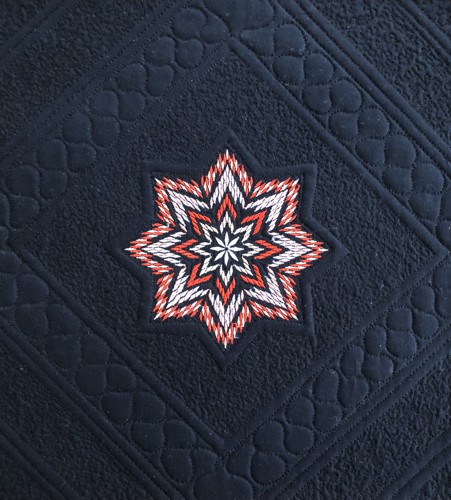 Press with heavy steam. Square the piece and trim it to 13" x 17".

Finish the raw edges with the binding.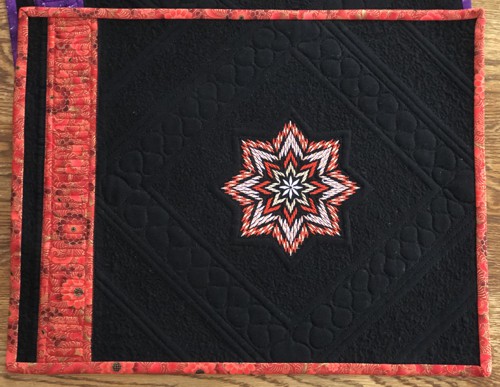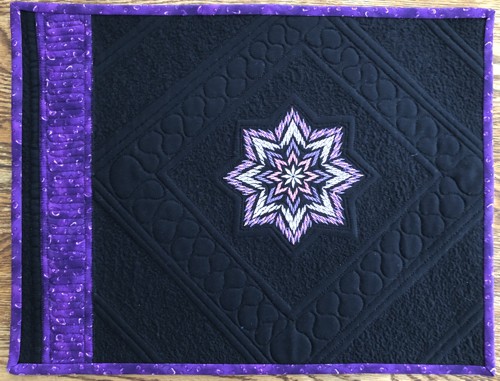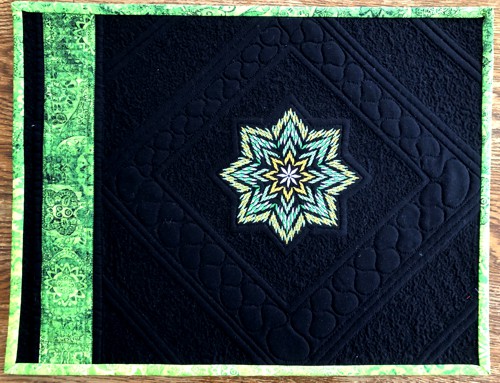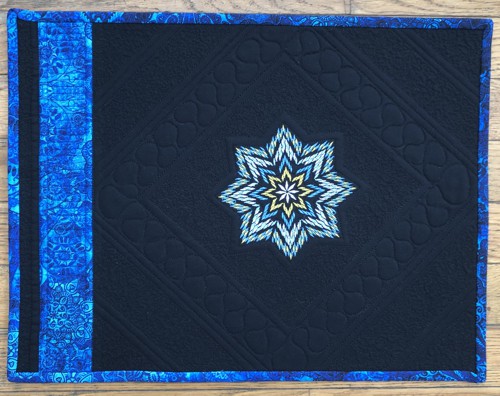 Have fun!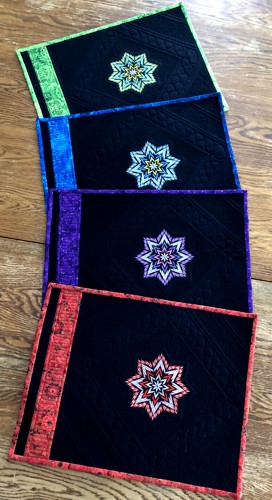 Back to Folk Flower
Back to Projects Page