Welcome to our festive and creative tutorial on crafting a Scrap Christmas Quilt with Embroidery! Our centerpiece is an embroidered Christmas tree, surrounded by a border lovingly pieced together from scrap Christmas-colored fabrics. This holiday season, join us in crafting a unique and heartwarming quilt that will add a touch of Yuletide cheer to your home. Let's get started!

We used the design Holly Christmas Tree, which fits the Large hoop (5" x 7").

The finished size of the quilt is about 12 1/4" x 12 1/4".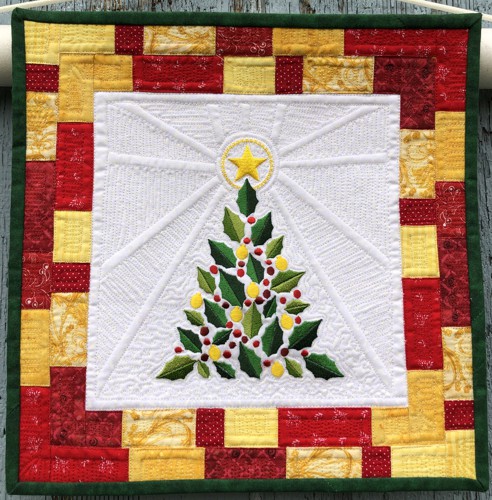 You will need :

embroidery threads either polyester or rayon,

scraps of cotton fabrics in Christmas colors - red, golden yellow, green;

a piece of white fabric for the central part, measuring about 10" x 10";

light-weight cut-away embroidery stabilizer;
fabric for the backing;
batting;
quilter's ruler;
rotary cutter;
iron;
#12 universal needle;
quilting threads (white, and the colors of the fabrics you use);
#12-#14 quilting needle.

Embroidery:
Upload files for the Christmas Miracle Tree to the embroidery machine.
Select threads. Stabilize the piece of white fabric.
Hoop the fabric tightly and embroider the design.
Trim the stitch-out to 8 1/2" x 8 1/2" square.
Cutting:
Cut the scraps into strips of different widths, but approximately of the same length of about 13"-14".

Sew the strips together along the long sides (seam allowance 1/4") until you get a piece of about 14"-15" long.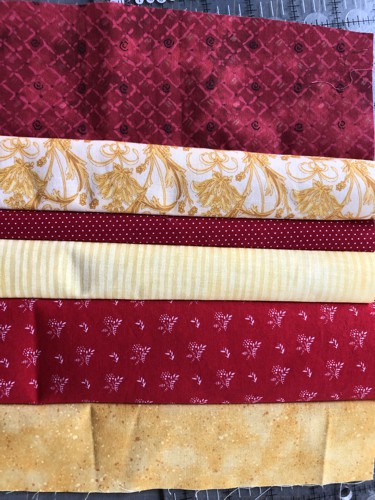 Subcut the piece into 8 strips, each strip 1 1/2" wide.
Assembly:

Note: seam allowance is 1/4", press the seam immediately after you make it.
Trim 2 strips to 8 1/2". Sew them to the upper and lower edges of the central piece.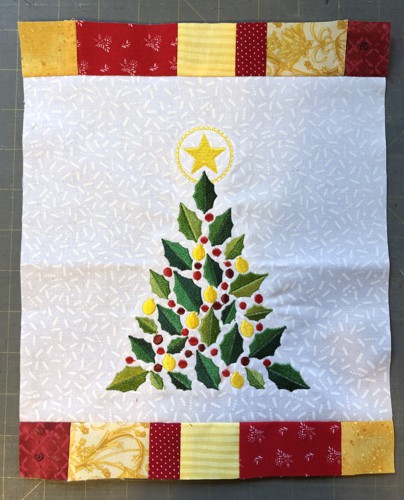 Trim 4 strips to 10 1/2". Sew 2 of them to the left and right edges of the central piece.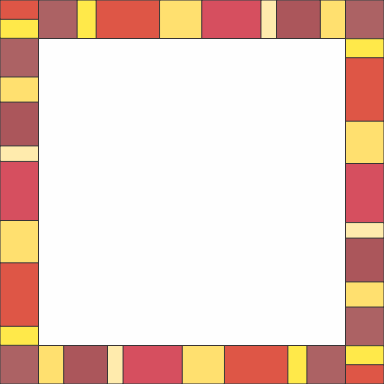 Sew the remaining 2 to the upper and lower edges of the working piece.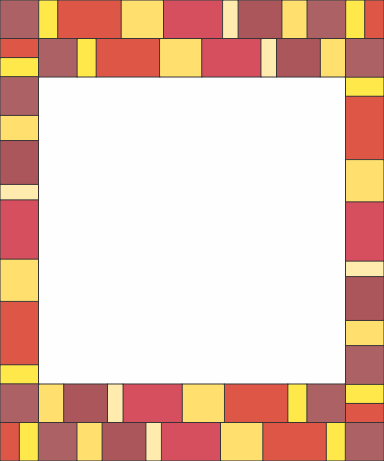 Trim the last 2 strips to 12 1/2" length and sew them to the left and right edges of the working piece.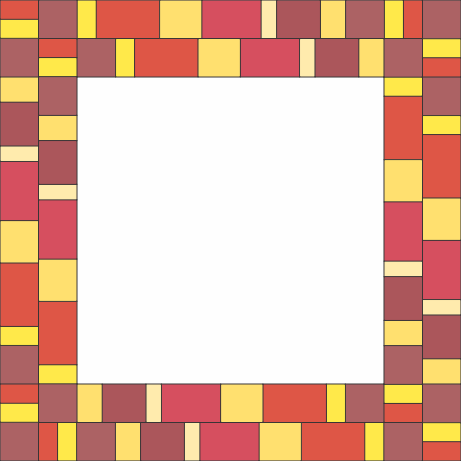 Quilting and Finishing

Now place the backing on a flat surface (table) face down. Cover with batting. Spread your working piece over it.

Pin all layers together.
We quilted in a free-motion style all over the quilt. Start from the central part and quilt around the embroidery first, then proceed to the borders.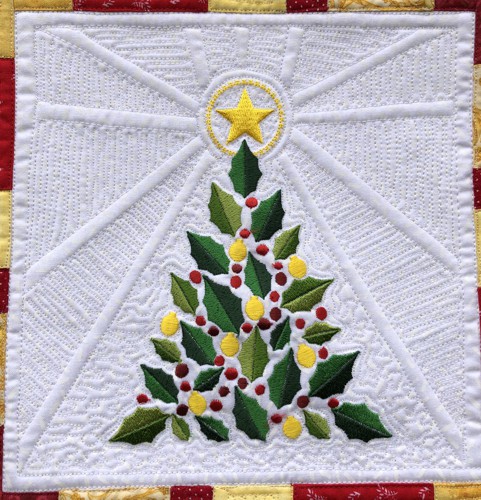 Press with heavy steam. Square the piece.
Finish the raw edges with the binding.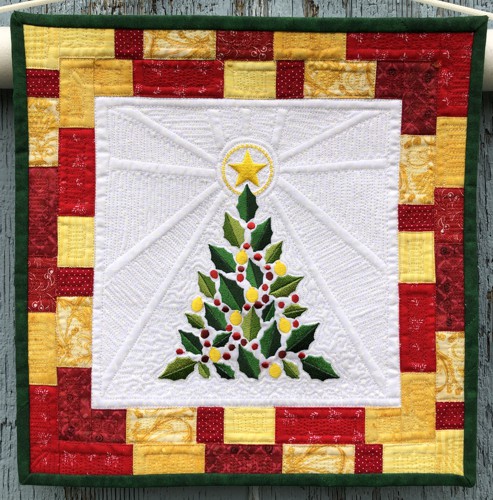 Have fun!
Back to Holly Christmas Tree
Back to Projects Page