The State Bird designs are great for embellishing T-shirts and tote bags to make gifts for friends and family. They are also great for quilts of different sizes.
In this project, we used the designs to make "coloring" quilts. These are small wall-hangings in slightly different sizes, but all of which are approximately 17" x 21". Then, we embroidered them with State Bird designs and colored them in with fabric markers, just like a coloring book.

For the project we used various batiks, pressed polyester batting and fabric markers.

We first stitched the tops, then placed the tops on pieces of batting and embroidered through the two layers. When the embroidery was finished, we added the backing and quilted the working pieces. After that, we finished the edges and colored the designs in.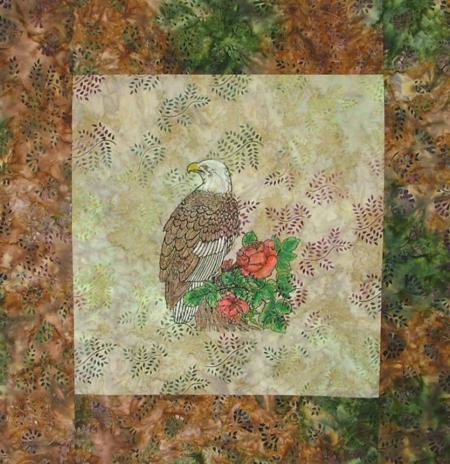 The first quilt, with a Bald Eagle, is very simple: a piece of fabric in the center is surrounded with wide borders from a second fabric.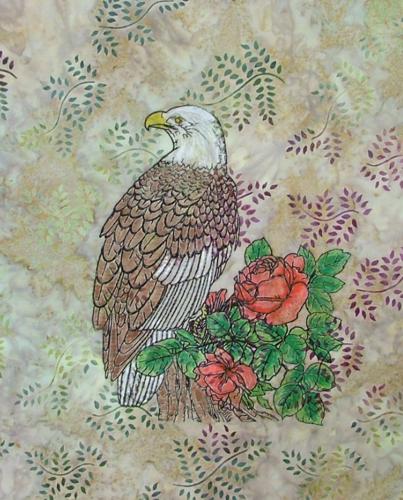 The second quilt used New Jersey's Goldfinch and was very similar to the first one. For this quilt, we found a handsome violet-patterned batik which nicely complements the picture.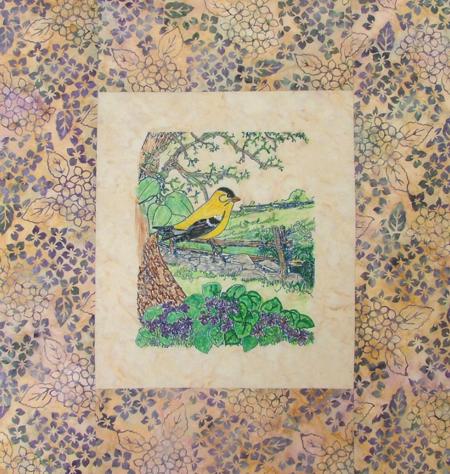 You can also play with the colors of the embroidery. Try to color the picture to match the colors of your fabric.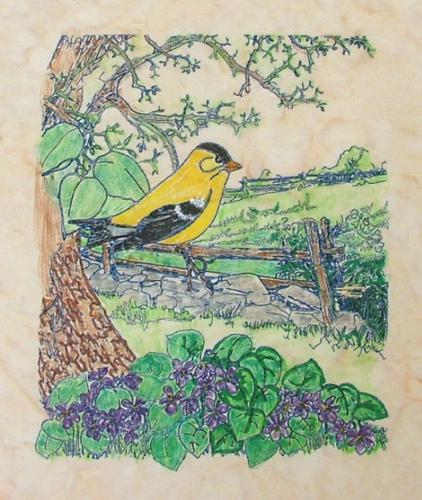 The Rhode Island quilt also has traditional borders, though we tried to make them assymetrical. The left border is 5" wide, and all others are 2 1/2" wide.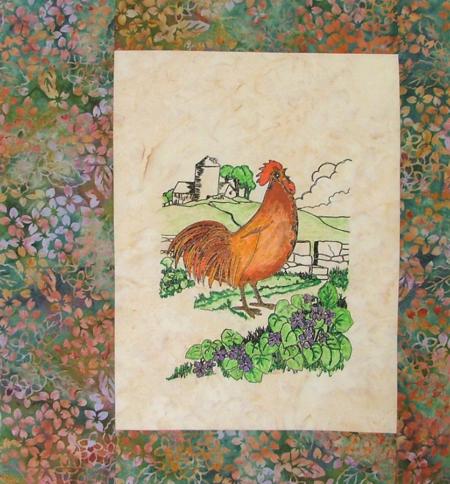 The batik used for the border features violets, Rhode Island's state flower. Luckily for us, this batik has rust and red tones in it to match the colors of the rooster.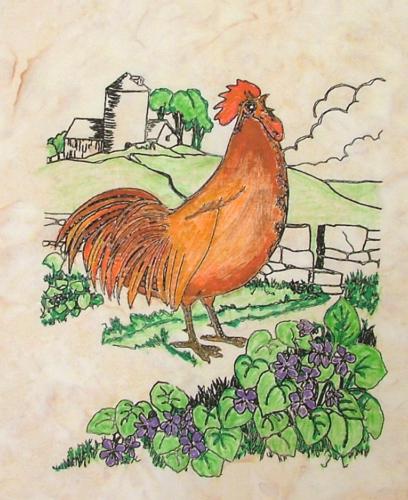 For the Tennessee quilt we took a fat quarter of multi-colored batik and cut out an arch-shaped opening in the center. Then we appliqued this frame onto a light-colored batik.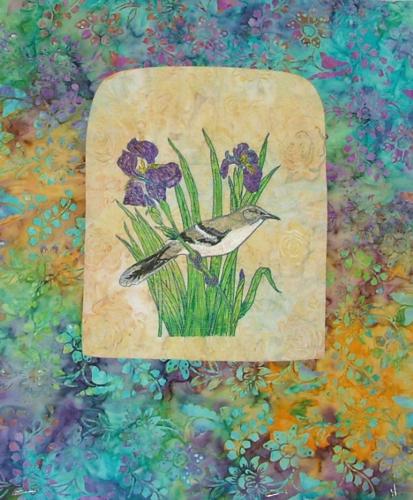 The quilt features a Mockingbird, state bird of Tennessee.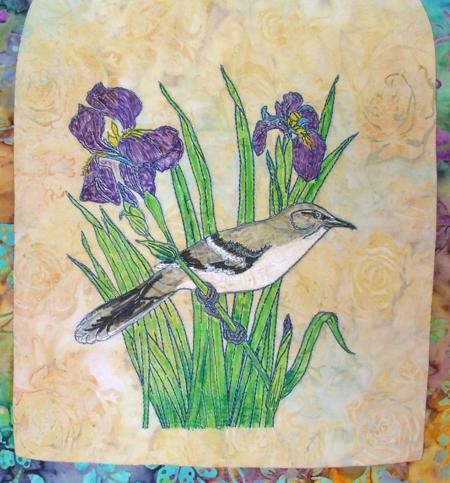 This is the Texas quilt. It features a Mockingbird, state bird of Texas and Bluebonnets. We made an opening in a fat quarter of light lilac batik and overlayed it on a pale blue batik. This time the opening is oval, but we did not want to make a perfect oval, and chose to make it irregular. Then we appliqued the frame onto the pale blue batik and made the embroidery.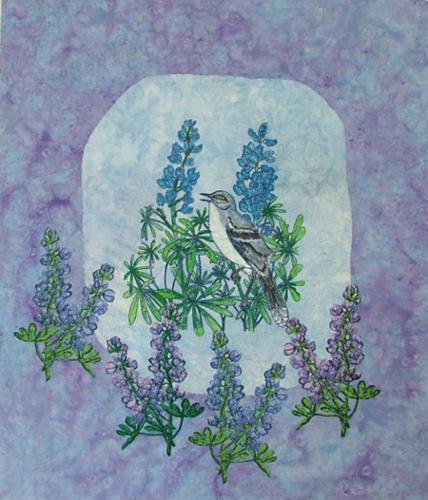 On the lower border, we also embroidered Bluebonnets, the state flower of Texas.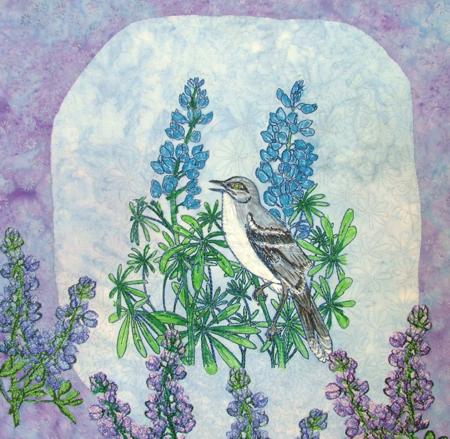 If you like quilting, you can use free-motion to imitate the bluebonnet's foliage around the bird.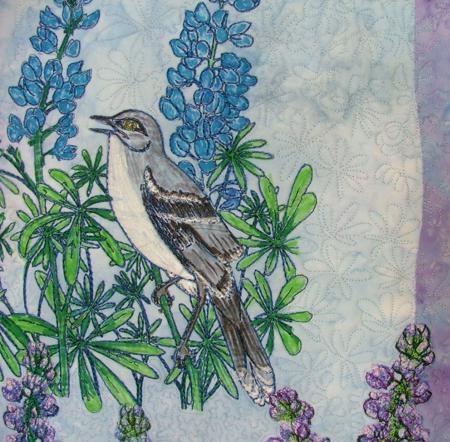 Our last quilt in the series is the New York quilt. It's very simple: on a fat quarter of light colored batik, we appliqued a wavy frame.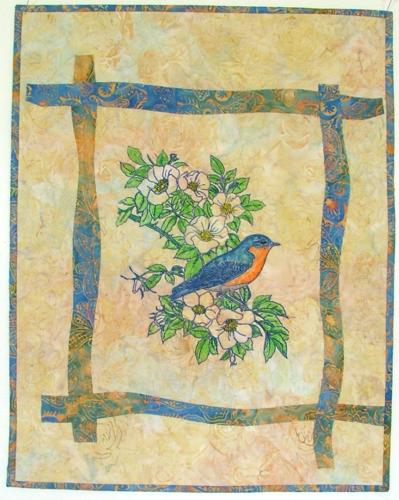 The colors of the frame complement to colors of the Bluebird very handsomely.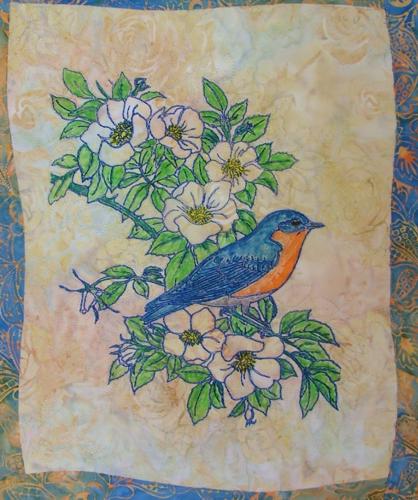 We hope that you liked our idea and will come up with many of your own.
Back to Projects Page