Embroidered Jeans
Embroidered jeans have been popular for several years already. There are many instructions and recommendations both in magazines and on the Internet. We found that the easiest way to add embroidery to jeans is to make embroidered patches and then "glue" and stitch them onto the jeans. You do not need to rip the seams of the jeans and you can add the embroidery practically anywhere. Here is how we did it. We used designs from the Southwestern Indian Motif Set .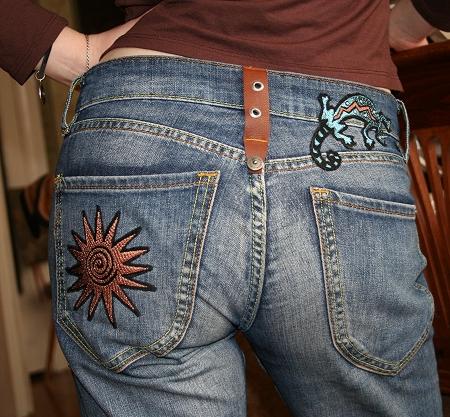 First, we embroidered the designs on black polyester felt. We did not use any stabilizer, but tightened the hoop really tightly so the felt had no chance to shift or shrink while embroidering.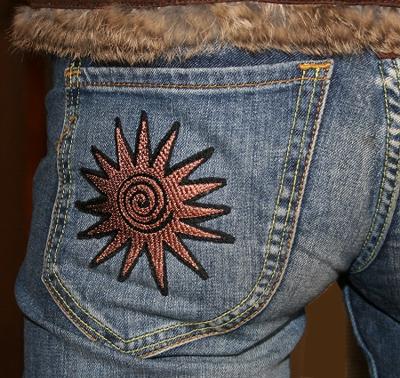 Secondly, we cut out the embroidery as close to the threads as possible. stuck the shapes on a piece of Steam-A-Seam2 and cut out the Steam-A-Seam2 shapes. Then we removed the paper from the back of the Steam-A-Seam2 and placed the shapes on the jeans.
With Steam-A-Seam2 you can re-arrange the position of the patches as many times as you need: it temporarily holds the patches where you place them. When we were satisfied with the position of the patches, we covered them with a cloth (to protect the embroidery) and pressed them with a hot iron to fuse them permanently.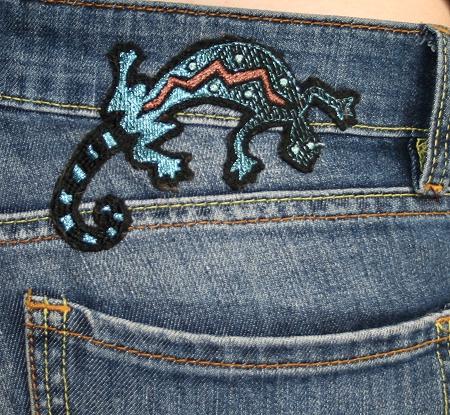 To be on the safe side, we also manually slip-stitched along the edges of the patches. This method allows to place the embroidery in locations where your machine cannot reach and over thick seams that a needle cannot punch.
Back to Projects Page