Greeting Cards with Horse Lace
These charming greeting cards feature the FSL Battenberg Horse Lace. They're simple to craft and make great, professional-looking keep-sakes.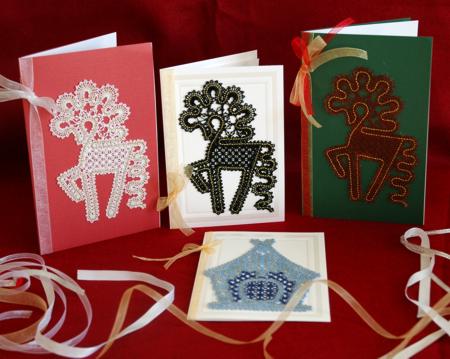 For the lace, you will need water-soluble mesh and embroidery threads.
Hoop 2 layers of water-soluble mesh and embroider the design of the Horse. For our samples, we used Signature cotton threads of different colors, gold metallic thread with a 12/80 metallic needle and pre-wound polyester bobbins.
Wash away the stabilizer and air dry the motifs. Press with steam, if needed.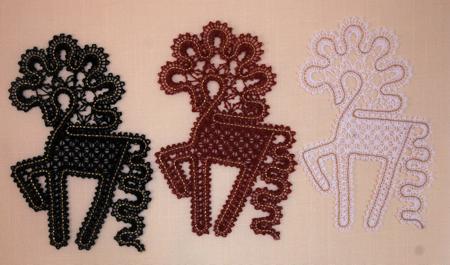 For the cards, you'll need card stock, regular white letter-size paper, permanent adhesive spray and organdy ribbons. Various small embellishments - stickers, bows, crystals, etc. can also be used.
We used cardstock sheets from a Christmas Cardstock Stack pack. The sheets from the pack are letter-size.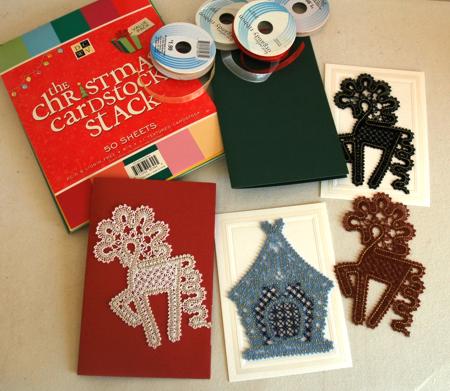 Fold the cardstock sheet in half widthwise. Press the folded line with something heavy and dull, e.g. scissors' handle, to make the crease neat and permanent.
Spray the lace motif with permanent adhesive.
Place the lace on the front panel where you 'd like to attach it. Press with your fingers. Set aside until the adhesive dries.
Fold a sheet of white paper in half widthwise. Insert into the card.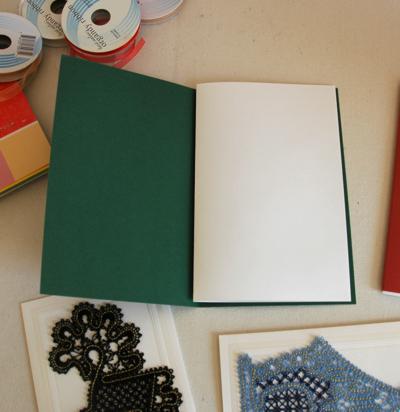 Cut a piece of organdy ribbon long enough to be tied around the card.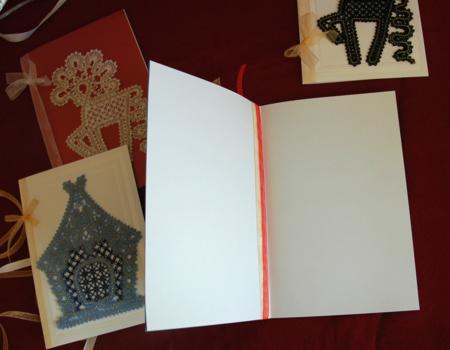 Tie the ends on the ribbon into a bow on the front of the card.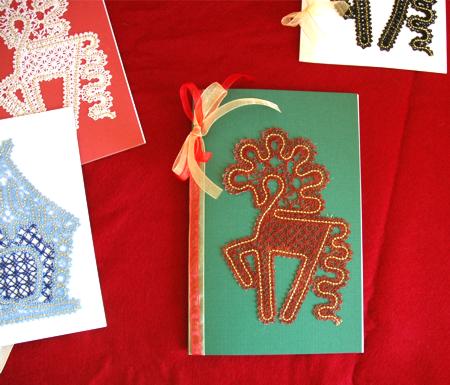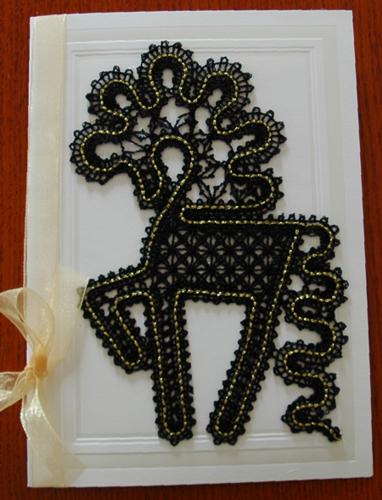 You are basically finished. The card is beautiful as it is. If you would like to add a little more sparkle, you can further embellish the cards with stickers, small beads, shells, crystals, etc.
Happy embroidering!
We hope that you liked our idea and will come up with many of your own!
Back to FSL Battenberg Horse Lace
Back to the Projects Page