Battenberg Lace Table Runner
This charming, German-style tablerunner is made using the Princess Marie Lace Table Runner Set. These delicate lace motifs can be combined in a multitude of different ways to make tablerunners, doilies and table toppers of various shapes and sizes.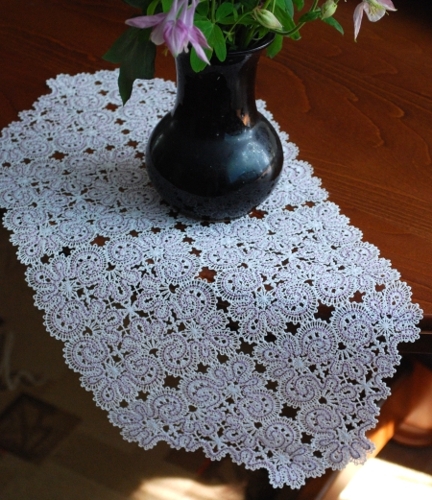 Click to enlarge
The Battenberg lace Table Runner Set consists of 2 designs - the square and the corner triangle.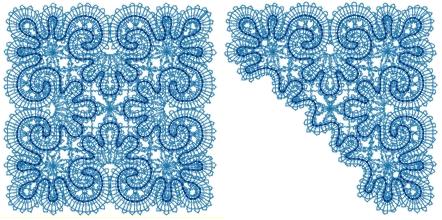 Stabilizers: We recommend to use water-soluble mesh, such as Vilene. Vilene D0102 is a non woven dissolvable stabilizer which is imported into the US, is sold in large rolls and is sometimes repackaged under different brand names. Two of these brand names are Wash-Away and Aqua Magic. Film-like water soluble stabilizers, such as Solvy, are not suitable for Free-Standing Lace embroidery.
Threads: Use embroidery threads.
30-weight and 40-weight polyester in the needle and pre-wound polyester bobbins make thin soft lace. The same threads in the needle with 50- or 60-weight cotton in the bobbin makes heavier lace. If you prefer the hand-made look of real bobbin lace, use 50- or 60-weight cotton both in the needle and in the bobbin.
The thinner the thread, the finer the final product will be. You can try any combination and choose the one that you like most.
Needles: We use size 75/11 and 80/12 embroidery needles. The needles should be sharp, so it's advisable to change them after every project.
Most Importantly: ALWAYS make a test stitch-out of the design and wash away the stabilizer. This helps you to select the threads, needles, stabilizers and settings of your machine correctly. DO NOT embroider several designs in one hoop.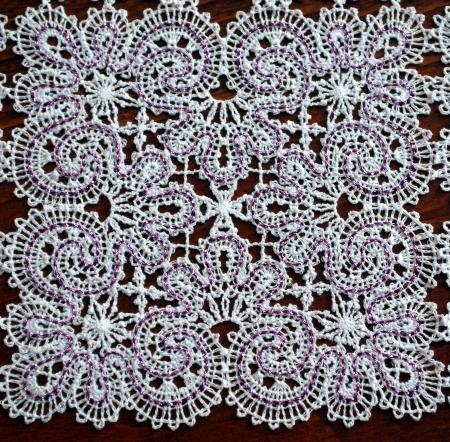 We embroidered our samples with 50-weight cotton to make a heavy lace. For the second color we used a pink metallic thread.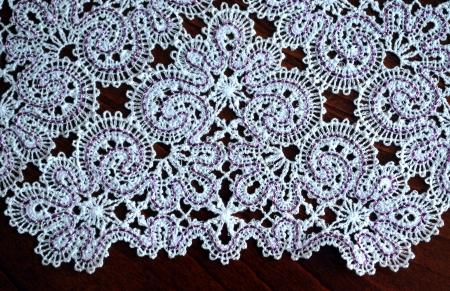 The finished size of our tablerunner is 10" x 20". We embroidered each design 4 times.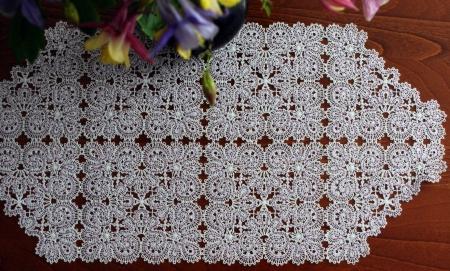 Assemble the tablerunner according to the diagram below. Using the same thread with which you made the embroidery, manually connect the motifs.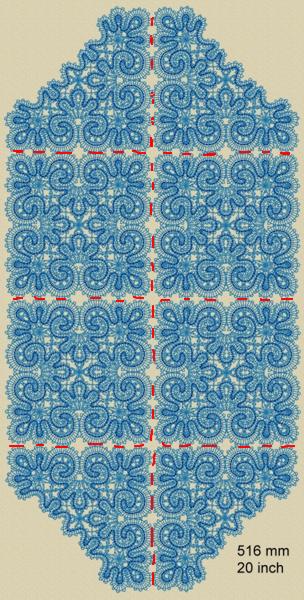 If you add a row of 4 squares in between the two rows of our tablerunner, you'll make it 5" wider. By adding horizontal rows of squares you can also make the tablerunner longer.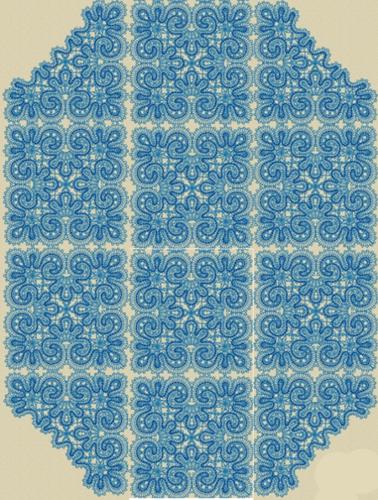 By using different combinations of these two motifs you can get doilies and table toppers of various sizes.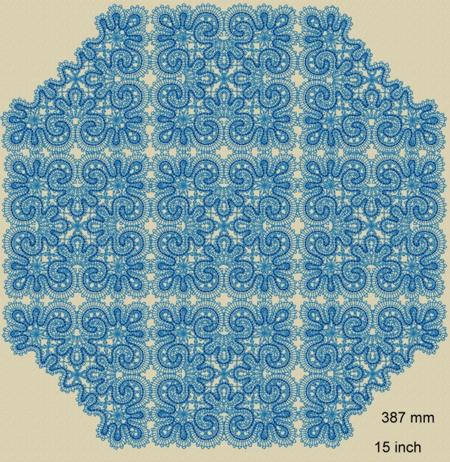 We hope that you liked our idea and will come up with many of your own!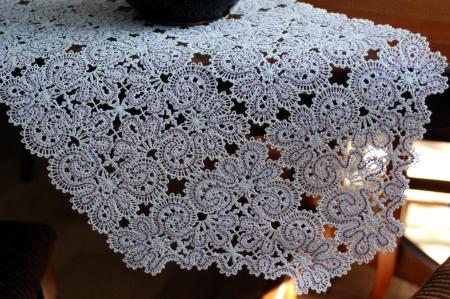 Back to Princess Marie Lace Table Runner
Back to the Projects Page