Quilted Table Topper with Leaf Applique and Redwork Embroidery
This table topper features the embroidery designs from the Leaves Redwork Set II and some leaf shapes.
The finished size of the table topper is about 43" x 43".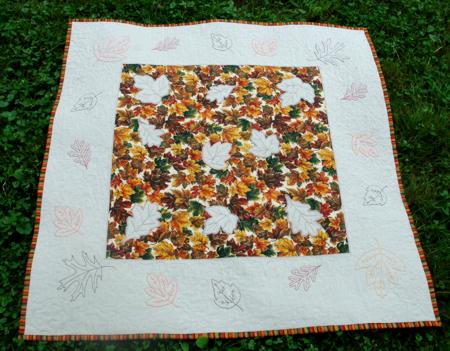 Click to enlarge
While making the Cutwork Applique Leaves, we got a lot of left-over leaf shapes. We decided to use them for a table topper.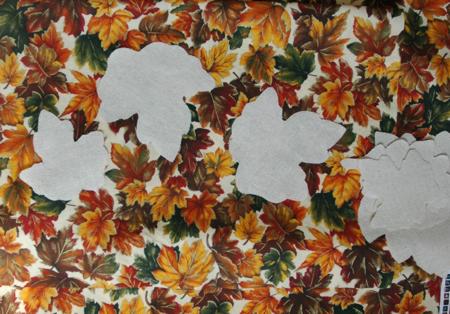 You will need a 25" x 25" square of cotton fabric with an autumn foliage pattern, about 1 yard of solid cotton fabric, and fabric for the backing and binding. You will also need low-loft batting and fusible web for applique. We like Steam-a-Seam, but any similar product will work as well.
We made the Cutwork Applique Leaves on unbleached Osnaburg cotton. That is why our leaf shapes are Osnaburg and that's why we chose Osnaburg for our solid fabric.
Out of Osnaburg we cut 4 strips 8 1/2" wide and the length of the width of the fabric.
We attached the strips to the patterned 25" x 25" square and made mitered corners.
Then we printed out snapshots of the designs from the Leaves Redwork Set II and placed them around the border. When we liked the composition, we pinned the snapshots and embroidered them one by one.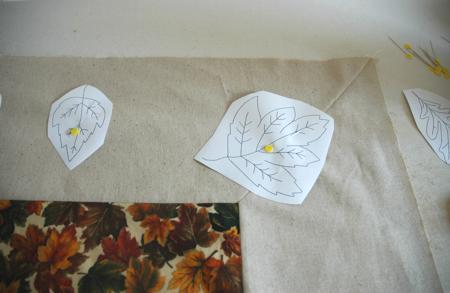 Using fusible web and following the manufacture's instructions, attach the leaf shapes to the colored center of the table topper.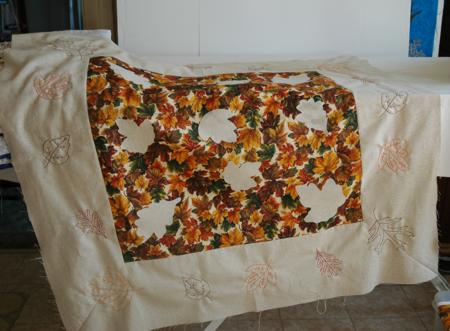 Then, using any bridge stitch from your machine, finish the edges of the applique.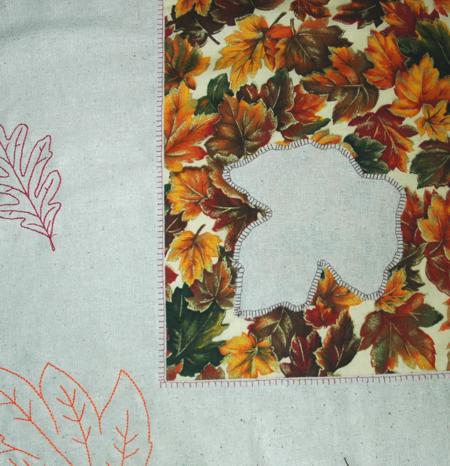 When you are done with all the leaf shapes, press the top and make the quilt sandwich out fo the backing, batting and top. Pin all three layers together with 1" pins and start quilting.
We quilted the veins of the leaves with bright threads and used free-motion meandering all over the quilt.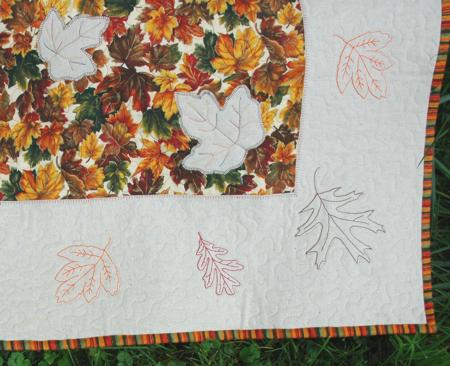 After the quilting is finished, press the work with heavy steam and square the work -- all corners should be 90 degrees and opposite sides should be of the same length.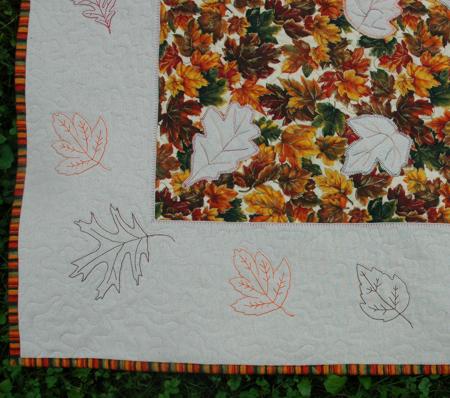 Finish the raw edges with binding, using your favourite method.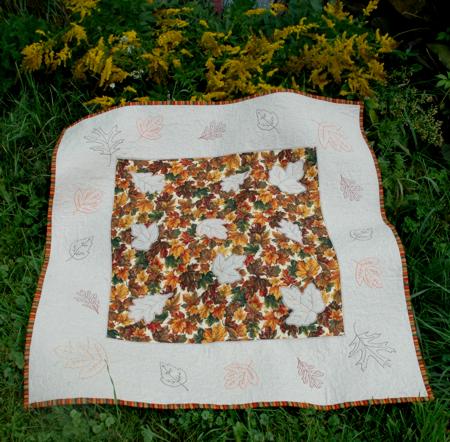 Happy Embroidering!
Back to Leaves Redwork Set II
Back to Cutwork Applique Leaves
Back to the Projects Page