This charming fairy-tale quilt depicts a popular topic in European folklore: Midsummer Night, when the fairies and elves come out to dance and make merry. These folk tales were the basis for Shakespeare's classic play Midsummer Night's Dream. The quilt is great for a children's room, but it will be appreciated by anybody.

We used the photo-stitch design of the Little Fairy with Lantern, the Elves and Fairies Redwork Set and flowers from the Redwork Flower Borders II.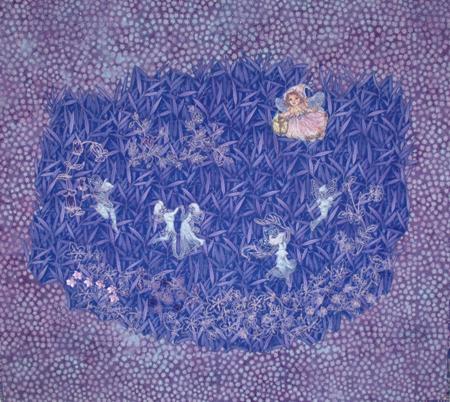 Click to enlarge
The finished size of the quilt is about 36" x 40". We used 1 yard of lilac star-patterned fabric and about 3/4" of violet-blue grass-patterned fabric. You will also need batting, fabric for backing and binding, iron-on cut-away stabilizer for embroidery, embroidery threads, Steam-a-Seam fusible web, white fabric marker or paint or ink. Small beads, ribbon flowers, etc. are optional.
We started by cutting out the "meadow" out of the grass-patterned fabric. Following the manufacturer's instructions for Steam-a-Seam fusible web, we fused the meadow over the star-patterned fabric. Then we finished the raw edges of our meadow applique with satin stitch.
Print out the snapshots of all the designs you want to use and lay them out to make a composition you like.
Stabilize the working piece with a light-weight to medium-weight iron-on cut-away stabilizer and embroider the designs one by one.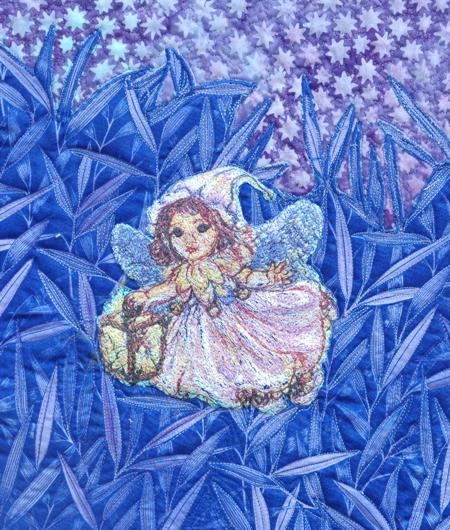 After the embroidery is finished, make a sandwich out of the backing, batting and top, pin all three layers together and quilt in a free-motion style. Press with heavy steam. Square the piece and finish the raw edges with binding.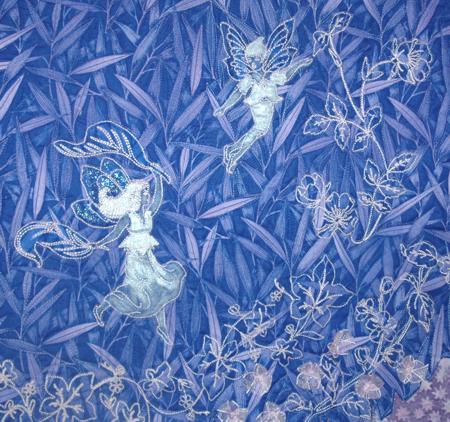 Using fabric markers, paint, or ink, highlight the dancing figures of fairies and elves to make them more visible in the grass.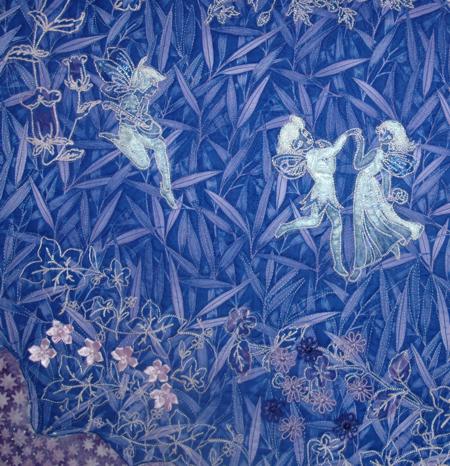 Add 3D flowers and beads for an elegant final touch.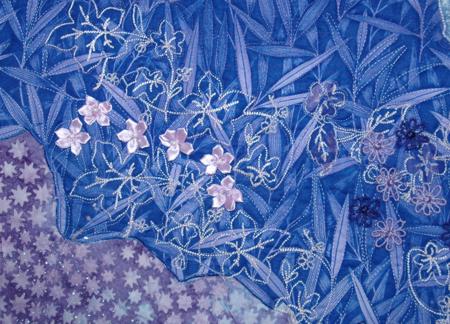 We hope that you liked our idea and will come up with many of your own.
Back to the Projects Page