Snowflake Organza Curtains
This project combines the cutwork and applique techniques to create this attention-grabbing set of curtains. The see-through organza and our Snowflake Applique for Sheer Fabrics work together very well to produce a unique look. We used green and red colors to fit with a Christmas theme, but you can use a different combination, such as blue and white, white and gold, etc.
The finished size of the curtains is about 82" x 23".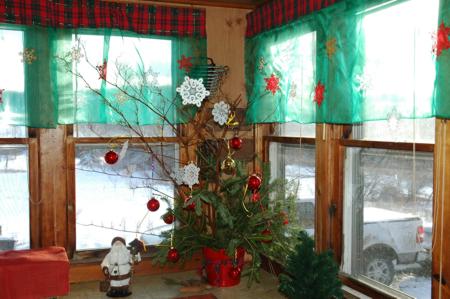 Click to enlarge
All measurements are based on 42" wide fabric and 1/4" seam allowance.
For this particular room, we need to make two curtains. We used 1 yard of cotton home-spun plaid fabric, 2 1/4 yards of green organza and 5" x 5" scraps of red, white and gold organza.
Cut the cotton fabric into 4 strips. Each strip should be 9" wide and as long as the width of your fabric.
If the salvage of your fabric is neat, do not cut it away, as this saves you finishing the raw edges. If you do not like the salvage, cut it away and finish the raw edges with zig-zag.
Place 2 strips face to face, aligning the finished short sides. With a straight stitch, sew the finished short sides together with a seam allowance of 1/4". Press the seam open.
With a zig-zag, finish the upper long edge of the strips. Fold the finished edge back 2 1/2"- 3" to the wrong side. Press. Top-stitch along the zig-zagged edge to make the sleeve for the curtain rod.
Place the cotton parts of the curtains aside for the meantime.
Cut the organza into 4 strips 20" wide and as long as the width of the fabric (about 42"- 44"). The short edges of the strips are salvages and do not need any finish.
Finish the lower long edges of the strips.
Now the organza strips are ready for embroidery. We made the applique designs from the Snowflake Applique for Sheer Fabrics. You can read about how to make this applique in our guide Snowflake Applique for Sheer Fabrics.
When we finished embroidering all four panels, we place the cotton strip face up, and covered it with 2 organza panels, face down. We aligned the unfinished lower edge of the cotton strip with the unfinished upper edge of the organza panels and pinned them together. Then we stitched two layers together.
Note: the organza panels are slightly wider than the cotton strip. You can either make light ruffles, or just overlay the panels.
Fold the seam onto the cotton strip and, using zig-zag, top-stitch the seam in place.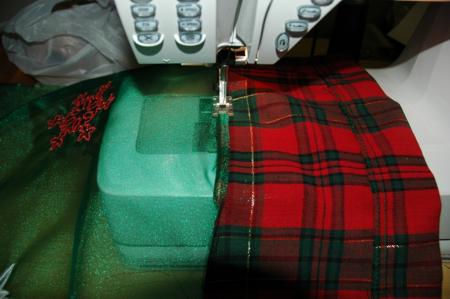 This is a picture of half of the finished curtain.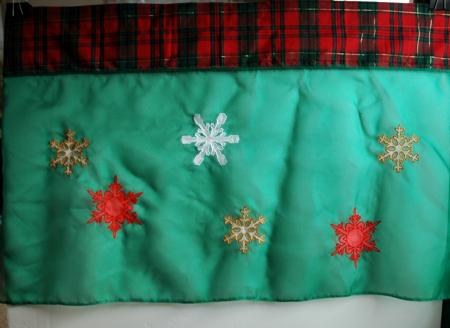 Insert a rod through the sleeve and place over the window.
Happy embroidering!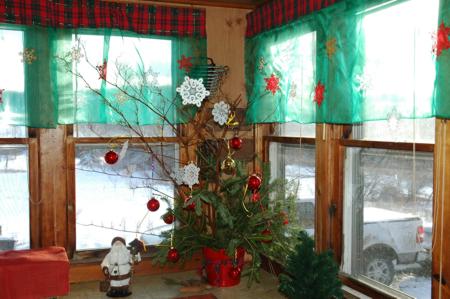 Back to Snowflake Applique for Sheer Fabrics.
Back to the Projects Page