Take-my-Heart FSL Crochet Set
The Take-my-Heart FSL Crochet is a set of 2 machine embroidery designs. One design is made in the crochet lace technique and the other is in free-standing applique with crochet lace technique.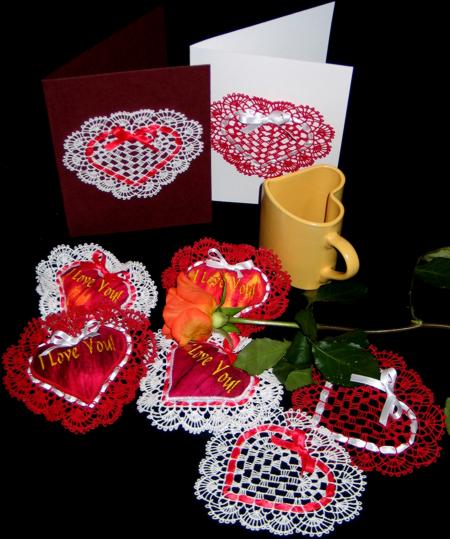 To work with both files, you will need water soluble mesh and cotton embroidery threads. The thinner your thread is, the finer the final product. All our samples are made with Signature cotton thread for machine quilting. For the applique, you will need scraps of white, pink and/or red fabrics. You will also need narrow satin ribbons and any other small embellishments of your choice.
The crochet parts are embroidered like all our FSL crochet, so please read the General Guidelines and Step-by-Step Guide to Embroidering our Crochet-Style FSL designs in the Tutorial section.
Some points to remember from the General Guidelines:
Use Vilene water soluble stabilizer;
Use the same thread for the needle and the bobbin;
DO NOT embroider several designs in one hoop.
Step One: Hoop 1-2 layers of water soluble mesh. Using cotton thread both in the needle and the bobbin, embroider the file with a crochet heart.
Rinse the stabilizer and air dry the design. Press with steam.
Step Two: Embellish the designs with ribbons, hot-fix crystals, etc. Use as bookmarks, ornaments on windows and in bouquets. Decorate greeting cards.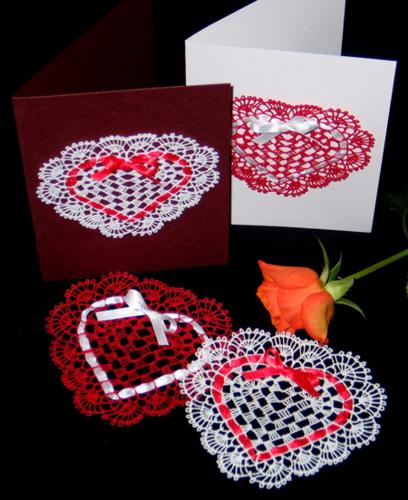 Step Three: To embroider the second file with applique, hoop 1-2 layers of water-soluble mesh and start embroidering. The machine will make an outline of a heart on the stabilizer and stop.
Step Four: Place a piece of fabric to cover the outline and start the machine again. It will again embroider the heart outline and stop. Take the hoop from the machine and with a pair of scissors cut away the excess fabric around the outline.
Step Five: Return the hoop to the machine and finish the embroidery.
Rinse the stabilizer and air dry the design. Press with steam.
To make a stuffed ornament, take two applique hearts, narrow ribbon and cotton balls.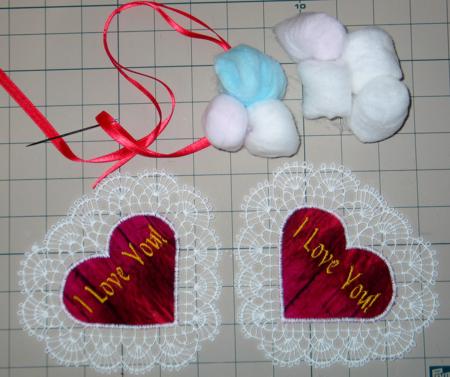 Place the "hearts" back to back, aligning the edges. Connect them by threading the ribbon through the holes in the lace. Leave about 1/4 part unstitched. Insert stuffing through this opening. If you want, place a drop of aromatic essential oil on a cotton ball.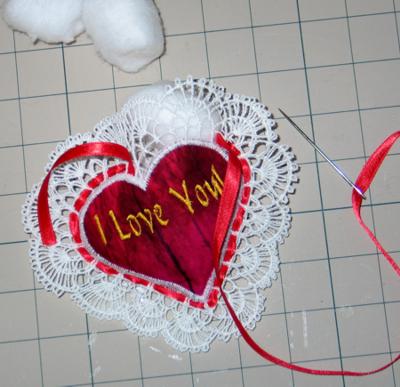 Close the opening with the ribbon. Tie the ends into a bow.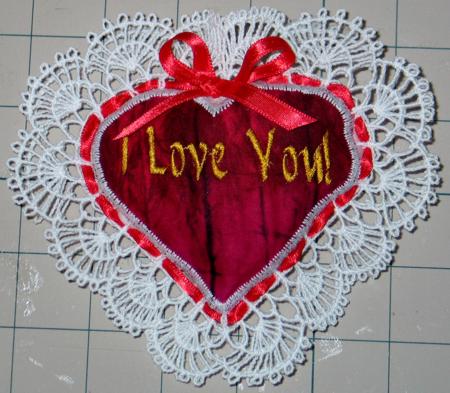 Instead of cotton, you can fill these hearts with dried aromatic petals and herbs.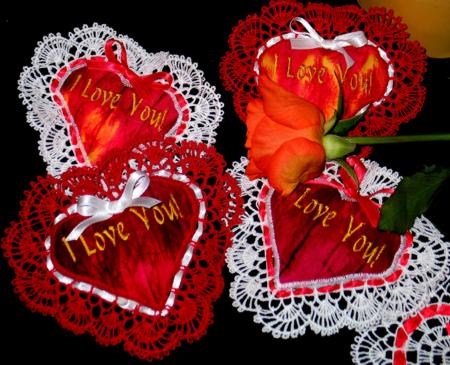 We hope that you liked our idea and will come up with many of your own.
Back to the Projects Page