Embroidered Summer Valance over Blinds
We made this summer valance for our rustic-styled entry room. It's a quick and easy sewing project that you can do over the weekend, and it looks absolutely gorgeous. We used embroidery designs from the Bee and Dragonfly Set, both for the large and small hoops, Ladybug Set I and Ladybug Set II.
The finished size of our valance is about 80" x 14".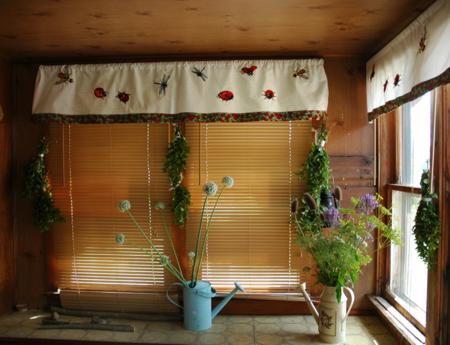 Click to enlarge
For the project, we used heavy-weight white linen and brightly-colored cotton.
The width of our two windows is 65" inches. We wanted only light ruffles, so we added 16" for seams and ruffles.
Out of linen fabric, we cut 2 strips 16" wide and 41" long (width of the fabric).
Out of patterned cotton fabric, we cut 2 strips 5 1/2" wide and 41" long.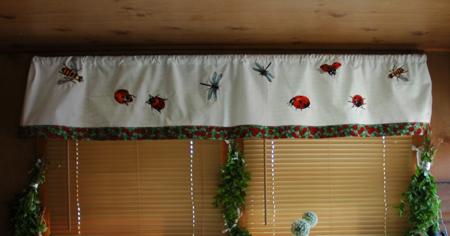 Take the linen strips and, using a zig-zag stitch, finish one short side on each strip.
Place the strips face to face, aligning the finished short sides. With a straight stitch, sew the finished short sides together with a seam allowance of 1/4". Press the seam open.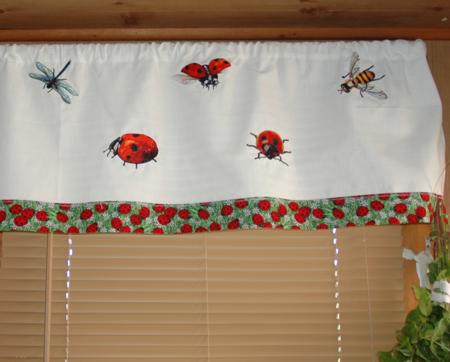 Take the patterned cotton strips, place them face to face and stitch them together along one of the short sides. Seam allowance is 1/4". Press the seam open.
Place the cotton strip over the linen strip, face to face. Align one of the long sides. Pin. Sew the strips together with a seam allowance og 1/4".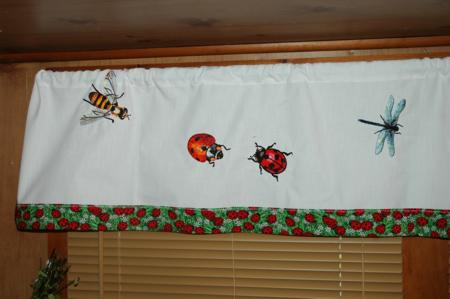 Using zig-zag, finish the short sides of the cotton strip.
Fold the short sides back 1/2", press and straight stitch in place.
Fold the long unfinished side back 1/2" and press. Fold back again by 3" and press thoroughly. This will be the sleeve for the curtain rod. However, do not stitch in place at this stage - you will need the extra width to make hooping easier.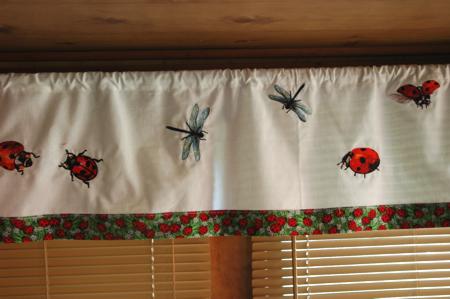 Now the valance is ready for embroidery. We used 2 layers of water soluble mesh.
After we finished all the embroidery, we cut away the excess stabilizer and finished sewing.
First, we top-stitched the folded upper edge of the valance to make the sleeve. Then, we folded back and pressed 1/2" of the lower, unfinished edge of the cotton strip.
Finally, we again folded back the edge of the cotton strip so, that the edge covered the seam between the linen and the cotton. This was pressed and topstitched in place.
Insert a rod through the sleeve and place over the window blinds. Doesn't it look charming?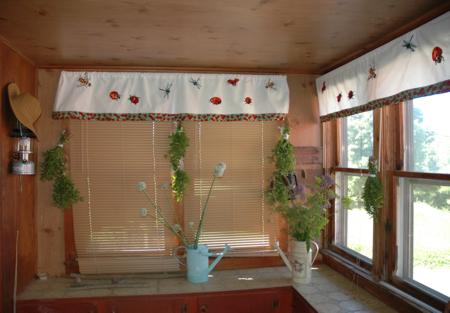 Happy Embroidering!
Back to Ladybug Set I
Back to Ladybug Set II
Back to Bee and Dragonfly Set
Back to the Projects Page