Pine Cones Table Topper
This table topper is very easy to sew and quilt, even for beginners. It features the Pine Cones design, and makes a great accent or an excellent gift.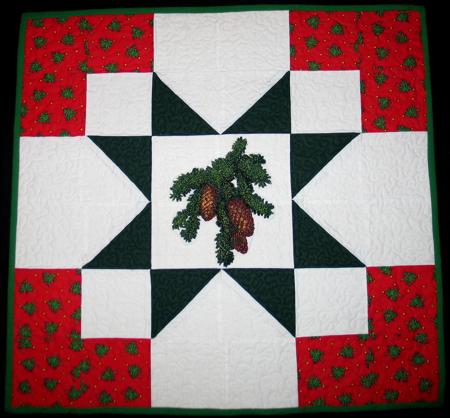 The finished size of the wallhanging is about 23" x 25".
You will need 3 fabrics: white (about 1/2 yard), bright red (about 1/4 yard), and forest green (about 1/4 yard). You will also need backing and batting, each piece measuring about 25" x 25".
Cutting:
Out of white fabric, cut 1 square measuring 8 1/2" x 8 1/2";
8 squares measuring 4 1/2" x 4 1/2";
4 squares measuring 4 7/8" x 4 7/8".
Out of red fabric cut 12 squares measuring 4 1/2" x 4 1/2".
Out of forest green fabric, cut 4 squares measuring 4 7/8" x 4 7/8",
3 strips 2 1/2" wide and the length of the width of the fabric for the binding.
Sewing:
Making half-triangles
Place white and green 4 7/8" squares together face to face. You'll get 4 pairs. With a lead mechanical pencil, draw a diagonal on the lighter square. Stitch 1/4" from the pencil line on both sides.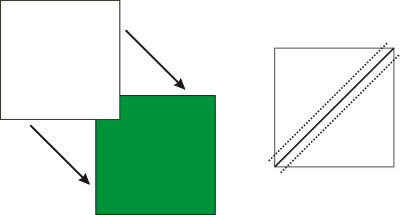 Cut along the line. Open the new squares. Press the seam towards the green. Trim the ears. Repeat for all the pairs. You should get 8 two-color squares, measuring 4 1/2" x 4 1/2".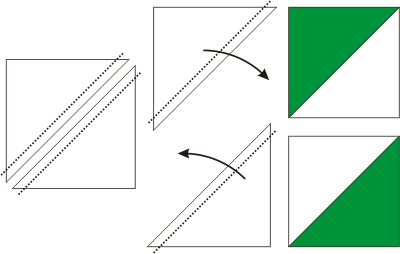 Assembly:
Stitch 4 white squares and 8 red squares into two rows, as shown:

Stitch 4 red squares, 4 white squares and 4 triangle blocks into two rows, as shown:

Stitch together 4 white blocks and 4 triangle blocks together into strips, as shown: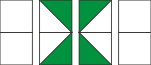 Assemble the central strip as shown, using the 8 1/2" x 8 1/2" white square: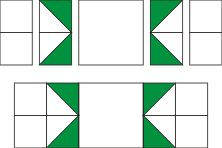 Now attach the next 2 strips as shown. Note the direction of the rays.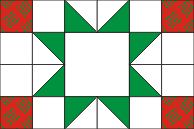 Attach the outer strips.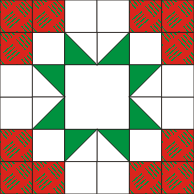 Embroidery:
Stabilize the central part with iron-on cut-away stabilizer. Make the embroidery. Cut away the excess stabilizer.
You can also use polyester craft felt instead of the stabilizer. In this case we recommend to baste the quilt top to the felt in the ditch along the colored borders. After the embroidery is finished, rip the baste and cut away the excess felt around the embroidery.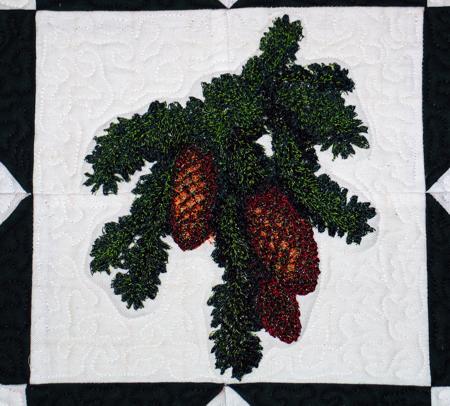 Quilting and Finishing:
Now place the backing on a flat surface (table) face down. Cover with batting. Spread your working piece over it.
Pin all three layers together with 1" pins and start quilting. We quilted along the lines of the embroidery and made stippling all over the table topper.
After the quilting is finished, press the work with heavy steam and square the work -- all corners should be 90 degrees and opposite sides should be of the same length.
Finish the raw edges with the binding.
The table topper is ready. Enjoy!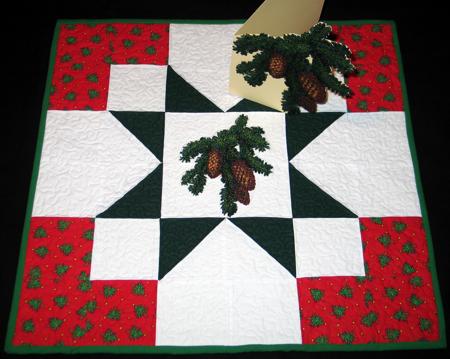 Happy Stitching!
Back to Pine Cones
Back to the Projects Page