Winter Tree Quilt with Lace Embroidery
This beautiful quilt is very easy to make. It's a wholecloth quilt , based on the tree panel from Joel and Bobbie Bergquists. Their website is www.QuiltersTreasure.com. They accept custom orders and can make you a panel in colors of your choice (https://www.quilterstreasure.com/Fabrichandpainted.html).
We bought a panel with a tree silhouette on a blue background.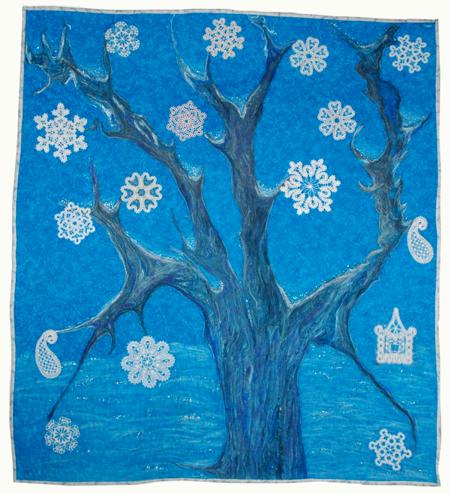 Click to enlarge
The finished size of the quilt is about 35" x 35".
Besides the panel, you will need 2 pieces of backing, high loft and low loft, slightly larger than the panel, batting, quilting threads, fabric crayons or markers (optional) and lace snowflakes. We used many snowflakes that had been test stitch-outs. There are designs from the Crochet Snowflakes, Battenberg Snowflakes for small hoop, large Battenberg Snowflakes, Battenberg Paisley Set and FSL Battenberg Lace Pagoda Ornament. You can find more snowflakes in our Christmas section.
Quilting:
Place the piece of high-loft batting on a flat surface (table). Cover it with the panel, face up.
Pin two layers together with 1" pins and start quilting the tree trunk and branches.
In a free-motion style, follow the pattern of the paint. Use threads of different colors to get artistic effects. After you are finished, remove the pins. Turn the working piece to the wrong side and cut away the batting around the tree trunk and branches.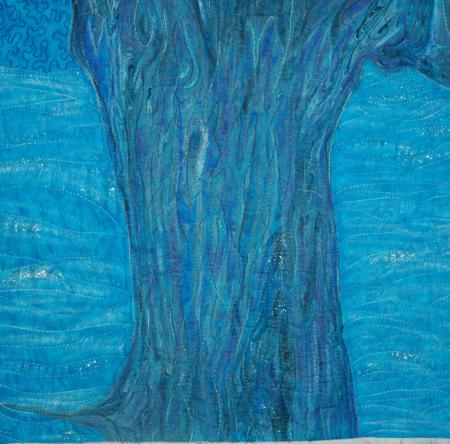 Now place the backing on the working surface, face down. Cover it with the piece of low-loft batting. Spread the panel with the three over it, face up. Pin all three layers together with 1" pins and start quilting. First quilt the tree trunk and branches again, but not very intensively, just to fix this part of the quilt in place.
We then quilted among the branches with small stippling and made snowdrifts around the lower part of the trunk.
After quilting we pressed the quilt with heavy steam and cut the edges to make all three layers align evenly. We did not square the quilt - it is of irregular shape. We prefer it like this. However if you feel that you'd like it to be squared, go ahead and make all corners 90 degrees and the opposite sides equal.
Finish the raw edges with the binding. Press the work again.
Embroidery:
Using water soluble mesh and cotton threads, embroider the snowflakes from our Christmas collection.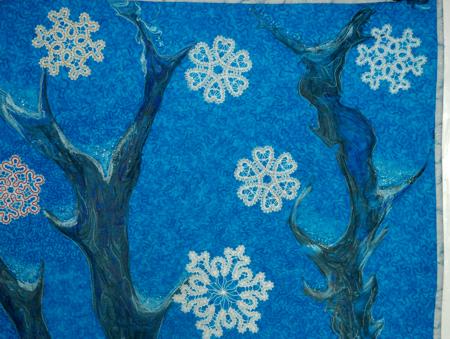 Lay out the ready lace pieces over the quilt. When you like the composition you made, pin the patterns to the quilt. Then machine stitch one by one.
Finishing Touches:
You can add some sparkle to your quilt using fabric paints.
.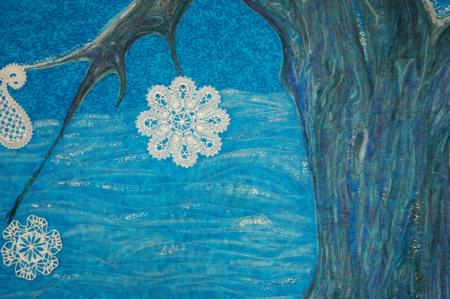 The winter-themed wall quilt is ready. Enjoy!
Joel and Bobbie kindly agreed to be photographed with our quilt during the Mancuso show in Pennsylvania, September 17, 2009.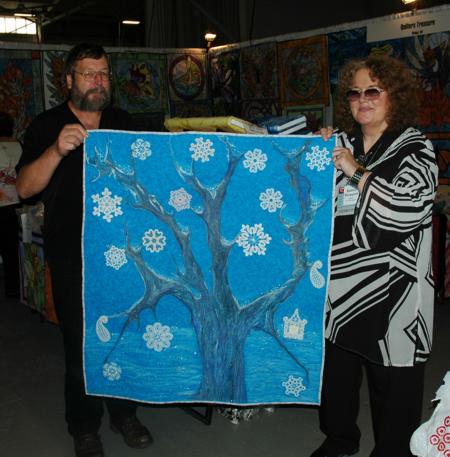 Here are more close-ups: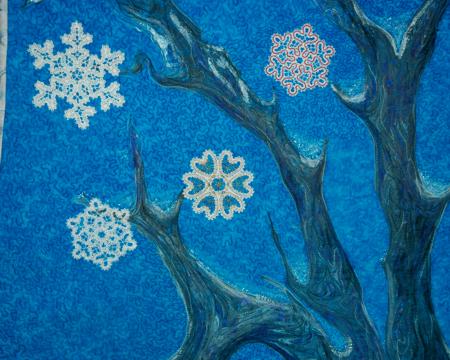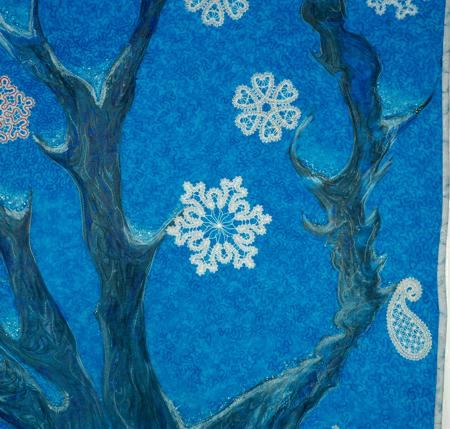 Happy Stitching!
Back to Christmas Lace Section
Back to the Projects Page