Celtic Accessories and Bookmark Set
The Celtic Accessories and Bookmark Set consists of 5 designs. The set offers you many possibilities, from embellishing clothes, to making keychains, to creating fashion accessories. We talk about just some of them on this page.
First of all, each of 5 designs can be used as a beautiful bookmark. We provide a color card for each long bookmark. However, you can replace any of the colors in the color chart easily to best suit your project.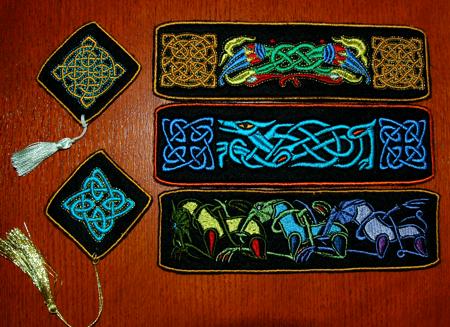 On the photos below, you can see another idea - we assembled the parts into a unique-looking belt.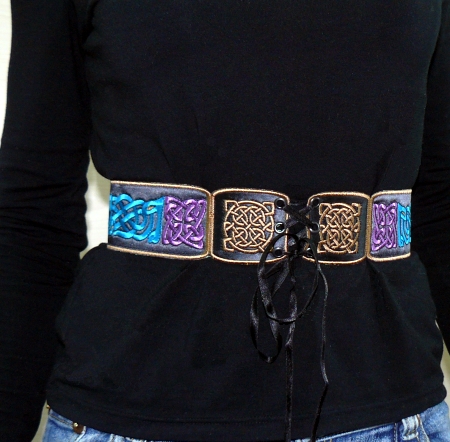 The belt consists of 3 long bookmarks and 2 small squares. By combining the long and short motifs, you can make a belt of any length.
This is a view from the side.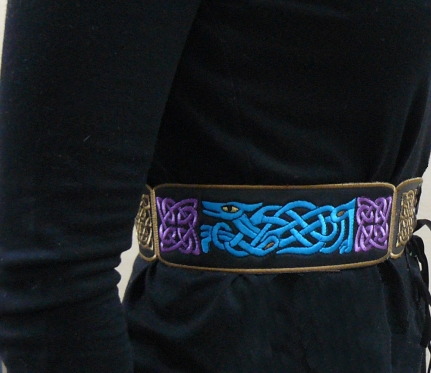 The embroidery is done on thin soft leather with 100% cotton for lining. The parts are sewn together with a zig-zag stitch.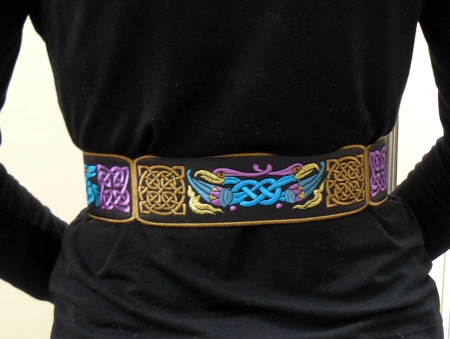 You can find a lot of uses for the small square motifs. Some ideas are: pendants, key-chains, patches, window and tree ornaments, tags... the list goes on and on.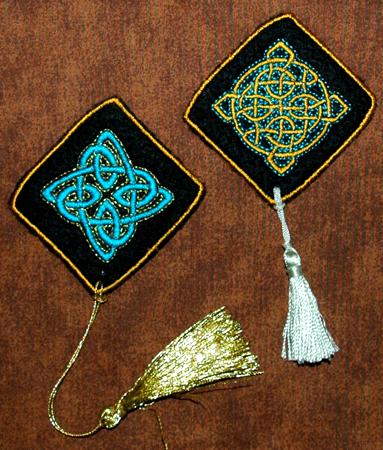 Embroidering the Bookmarks:
You will need fabric for the front of the bookmark and for the back. You will also need a tear-away stabilizer and embroidery polyester or rayon threads.
The best fabrics for the front of the bookmarks are soft natural or man-made leather or suede, polyester or wool felt, or other non-woven fabrics. For the lining, use thin 100% cotton.
Step One: Hoop a piece of a piece of fabric with a piece of tear-away stabilizer.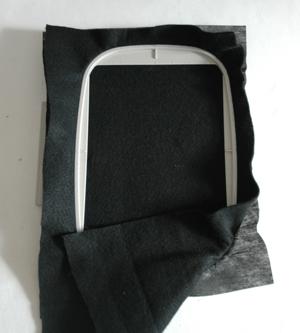 Step Two: Upload the design into your machine. Start embroidering.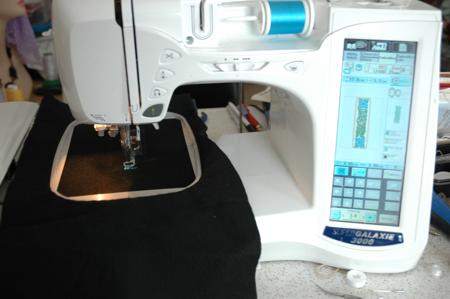 Step Three: When you're on the second to last color of any of the designs (it's black in the color chart), take the hoop from the machine. Turn the hoop wrong side up. Cover the embroidery with a strip of 100% cotton fabric (the lining).
Using pins with flat heads, secure the lining from the right side of the hoop. Place the pins close to the upper and lower sides of the hoop outside the embroidery area.
Step Four: Embroider the second to last color. Take the hoop from the machine. With a pair of sharp scissors, cut away the excess lining as close to the running stitch as possible...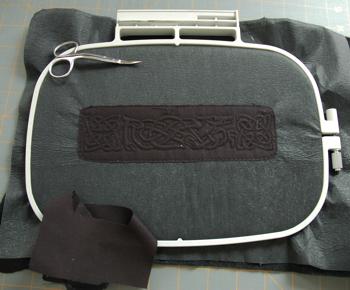 Then turn the hoop back to the right side and cut away the face fabric around the running stitch. Be careful not to cut through the stabilizer.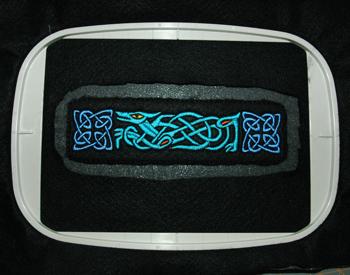 Step Five: Return the hoop to the machine and embroider the last color which will finish the raw edges.
Step Six: Take the embroidery from the hoop and tear away the excess stabilizer.
The bookmark is ready. Enjoy!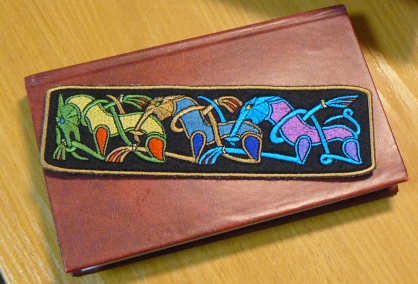 Happy Embroidering!
Back to Celtic Accessories and Bookmark Set
Back to the Projects Page