FSL Crochet Daisy Chain Border and Insert Lace Set
The FSL Crochet Daisy Chain Border and Insert Lace Set features 3 designs which can be creatively used in different projects. On this page, we outline just a few ideas.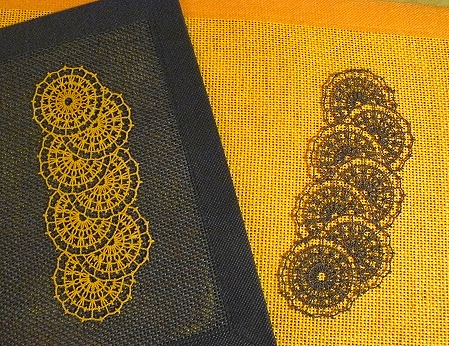 The designs should be embroidered as we recommend in our General Guidelines and Step-by-Step Guide to Embroidering our Crochet-Style FSL designs.
The lace should be embroidered with 30-, 40- or 50-weight 100% cotton thread. We used cotton Signature thread for machine quilting.
Some points to remember from the General Guidelines:
Use Vilene water soluble mesh stabilizer;
Use COTTON thread;
Use the same thread for the needle and bobbin.
DO NOT embroider several designs in one hoop.
Make sure you use a sharp needle.
Note: Depending on the weight of the thread, use #11 or #12 needles. Our experience showed that a metallic #12 needle works very well with cotton threads.
ALWAYS make a test-stitch-out of the design. This will help you to select threads, needles and setting of your machine correctly. ALWAYS wash away the stabilizer to check the stitch-out.
The set contains 3 files. The pattern basically is the same. The files "CrochetLace" and "CrochetLaceSm" are for making edge lace or lace that will be sewn over the fabric. The first file will give you a longer strip of lace.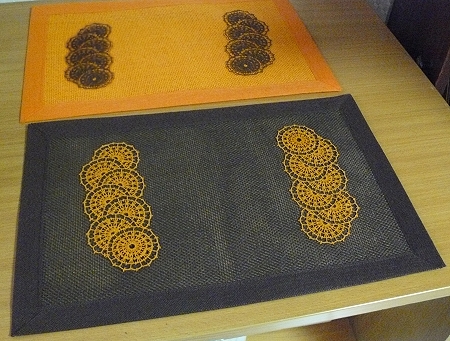 We used these files to decorate placemats. We attached bright yellow lace strips to the black placemats, and black lace to decorate yellow placemats.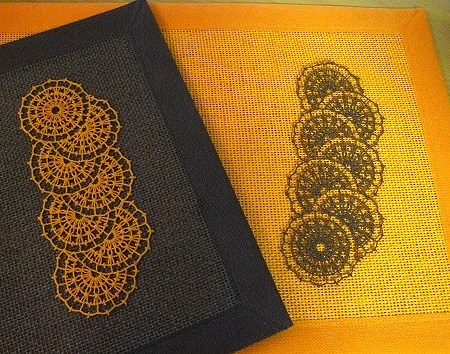 The file "CrochetLace Insert" is used to make inserts.
We used one to turn this plain T-shirt into a unique, fashionable one.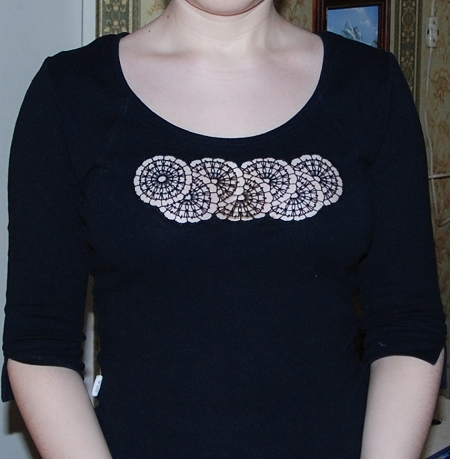 For this project, print out a screenshot of the design. Cut it out and use it as a template to position the design on the T-shirt. With a chalk, mark the position of the insert.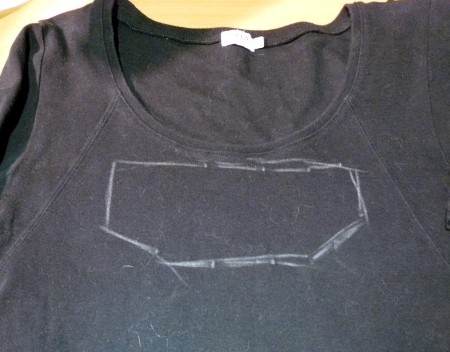 Hoop the t-shirt with water-soluble mesh. Start the machine and embroider the first color. We made it white for the photo, but it's best to...
Take the hoop out of the machine (DO NOT open it!). With a pair of sharp scissors, cut away the fabric inside the embroidered outline as close to the stitches as possible.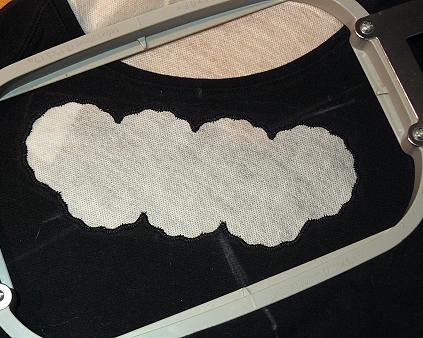 Return the hoop to the machine and finish the embroidery.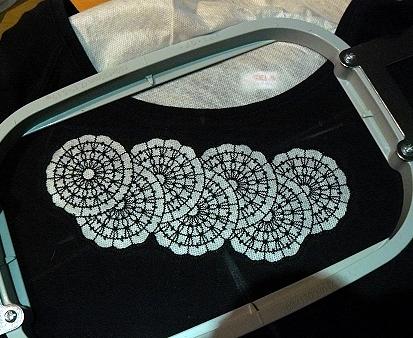 Cut away the excess stabilizer. Place the t-shirt into a bowl of luke-warm water for a couple of hours. Change the water several times.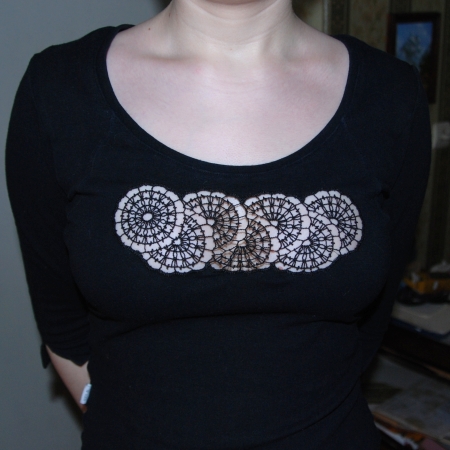 Happy Embroidering!
Back to FSL Crochet Daisy Chain Border and Insert Lace Set
Back to the Projects Page