Works of Our Customers
This photo was sent in by Donna Johnson from Lake Havasu City, Arizona. Here waht she write about her project:
" I was able to shrink the pattern quite a bit, but my first try I missed the eyes. I hope to donate several of these Santa's with magic keys. In case houses don't have chimneys, also kids can have head and keys on tree until time for Santa. There will be a letter to Santa with each key.
This was what the first one looked like with all my mistake. I am new to machine embroidery."
The embroidery design used is Santa Clause Applique.
Thank you for sharing!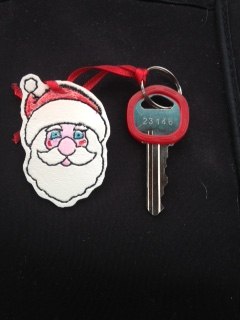 Back to the Works of our Customers page