Lace Table Runner
To make this lace table runner, we used a 29" x 5 1/2" piece of linen and the designs from the Square FSL Set.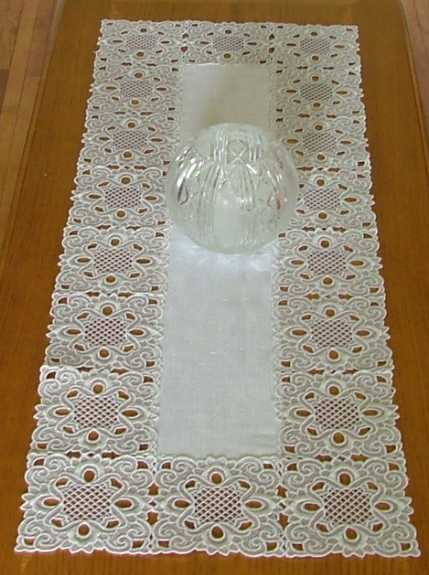 Embroider18 FSL squares. Use 2 layers of Vilene-type water-soluble stabilizer. Rinse the stabilizer and leave to air dry. Press all parts with steam.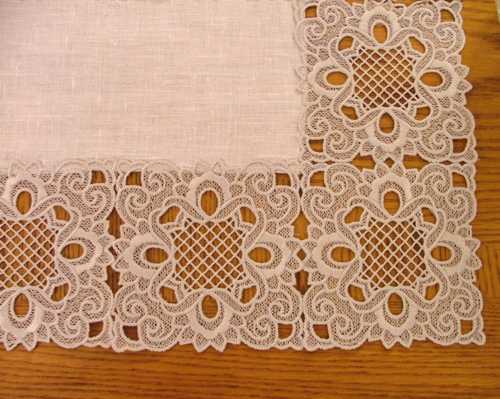 Using the same thread with which you embroidered the FSL squres, connect the squares.
Use a zigzag stitch for connection; stitch the squares only at the points where they touch. First connect the squares to make four strips: two of 3 squares and two of 6 squares. Then stitch a 6-square strip to a 3-square strip to make an L-shape. Repeat with the other two strips. Connect the L-shapes to make a rectangle.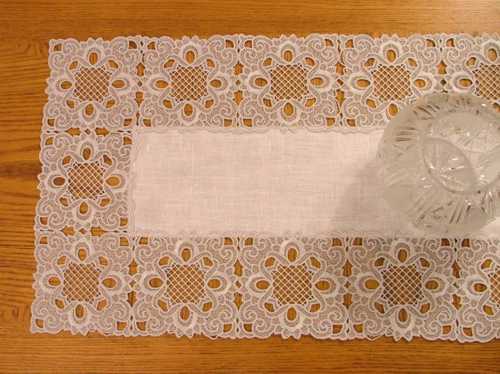 Measure the inner opening of the rectangle. It should be about 28 1/2" x 5". Take a piece of fabric measuring 1/2" more than the opening. We used a 29" x 5 1/2" piece of linen. Finish the raw edges of the fabric with zigzag. Place the embroidered lace over the fabric, aligning the edges. Pin the lace to the edges of the fabric and zigzag in place. Use the same thread as you used for embroidery.

The table runner is ready. Enjoy!
The designs from the same set can be used to make doilies, coasters, napkin rings, etc.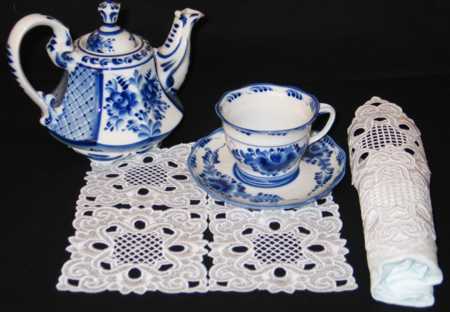 If you liked this FSL table set, you might also like: