Shelf Valance with Redwork
Decorate your kitchen shelf with an attractive valance decorated with the Children Masquerade Redwork Set I and Children Masquerade Redwork Set II, and borders from the Lace Border Set III.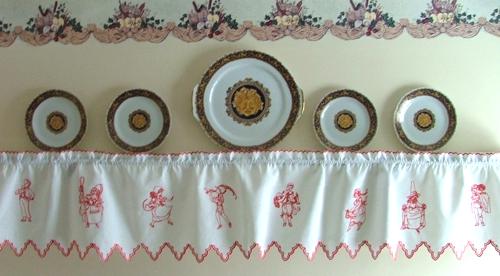 You will need light water-soluble stabilizer (film-like as opposed to fabric-like), elastic tape 1/4" wide and plain white cotton fabric, about 15" wide, its length depending on the size of your shelf. Our shelf is 66" long and 8" wide; so the length of the valance fabric must be: 66" + 8" + 8" + about 20" for ruffles + 4" for hooping, which comes to 106".
Step One: First draw the outline of your valance on the fabric. Our valance is 12" wide and 106" long.
Step Two: Hoop the fabric without stabilizer and embroider the upper border of the valance. Re-hoop and embroider again until you have embroidered the entire length of the valance. Use #40 thread.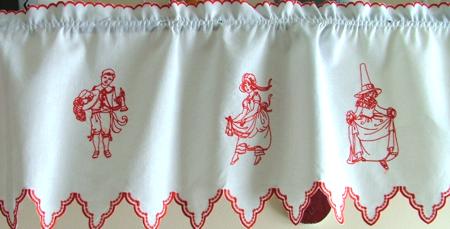 Step Three: Mark the places of the children figures, stabilize the fabric with the light-weight film-like water soluble stabilizer and embroider the figures one by one. Use #30 thread.
Step Four: Hoop the fabric without stabilizer again and embroider the lower border of the valance.
Step Five: Rinse the stabilizer, air-dry the valance and press it.
Step Six: Cut out the lace borders of the valance. Finish the raw edges on both sides. Machine-stitch two rows of gathering threads along the upper border, 1" and 1 1/4" from the upper border.
Step Seven: Pull the gathering threads to make ruffles and to shorten it to the size of the shelf.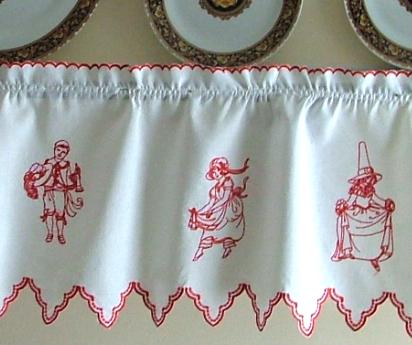 Step Eight: Take a piece of elastic tape about double the length of your shelf. Our shelf is 66" long, so we took 120" of elastic tape. Connect the ends of the tape to make a loop. Attach one side of the elastic loop to the valance with zig-zag, about 1" from the upper border of the valance.
Step Eight: Stretch the elastic loop around the shelf. The project is ready. You can also decorate the valance with free-standing fans from our Fan Lace Set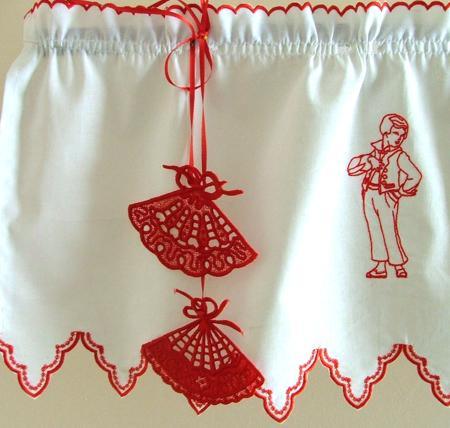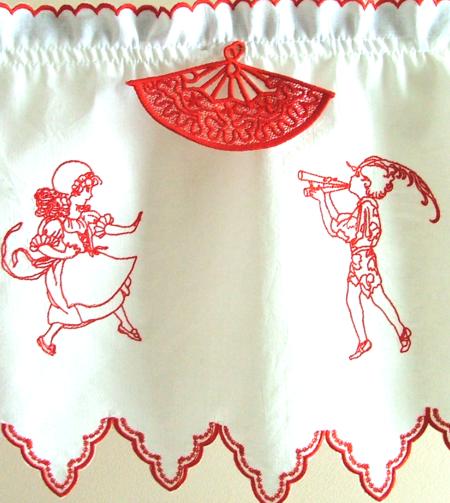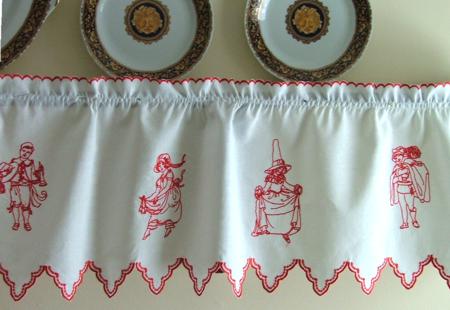 Here are some other designs that can be used to make an attractive and original towel topper to furnish your kitchen.