Easter Basket Doily with Crochet Lace
For this doily we used the machine embroidery Easter Bunny Crochet Rectangle design.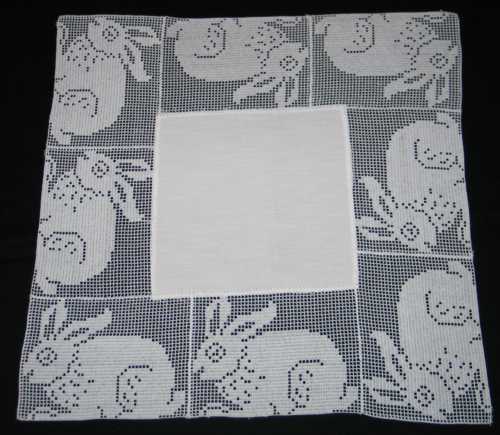 You will need a 11" x 11" piece of pre-washed cotton or linen fabric (we used heavy-weight linen), water-soluble Vilene stabilizer, cotton embroidery threads for the lace. We used white Signature-brand quilting cotton thread for the lace. The finished size of the doily is about 17" x 17".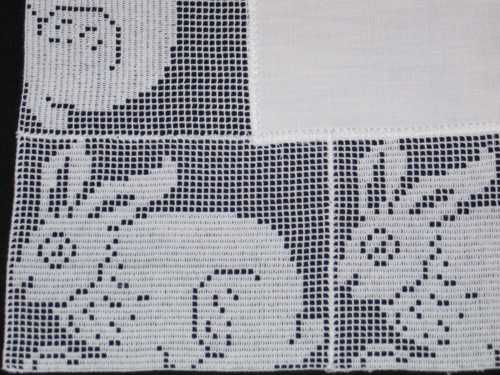 The Easter Bunny Crochet Rectangle design is a crochet-style FSL. Please read the General Guidelines and Step-by-Step Guide to Embroidering our Crochet-Style FSL designs.
Step One: Embroider the bunny lace eight times.
Trim the stabilizer close to the designs, leaving at least 3/4" around each design. DO NOT dissolve the stabilizer yet.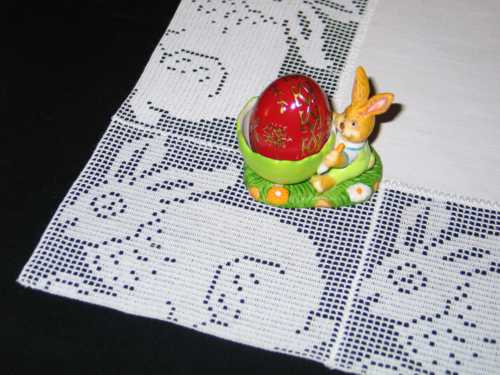 Please read the Step-by-Step Guide to Assembling crochet-style FSL Designs into a Project first.
Step Two: Using short but not very dense zigzag, connect each two panels. Then place the paired panels to form a square and zigzag together. You will get a lace frame.
Step Three: Place the lace frame over the fabric and stitch it to the fabric along the inner edge. Use zigzag or any other bridge stitch from your machine.
Step Four: With a pair of very sharp scissors cut away the excess fabric from under the lace.
You can now go ahead and dissolve the water-soluble stabilizer.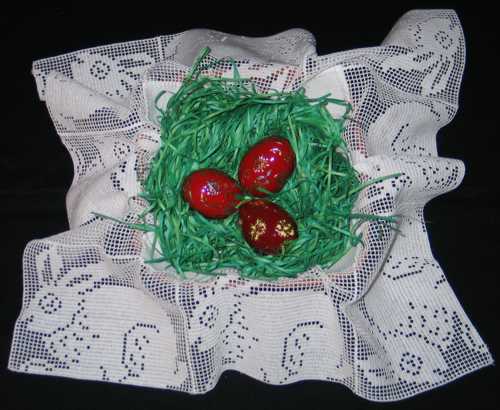 Spread to air dry. Press. The doily is ready. Enjoy!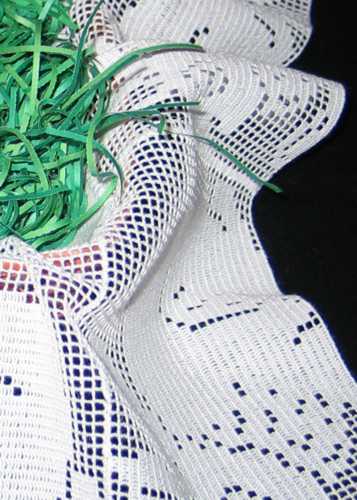 Back to Easter Bunny Crochet Rectangle
Back to Projects Page