Zodiac Crochet Doily
For this doily we used the design Sun and Moon and crochet-style FSL designs from
Zodiac Crochet FSL set.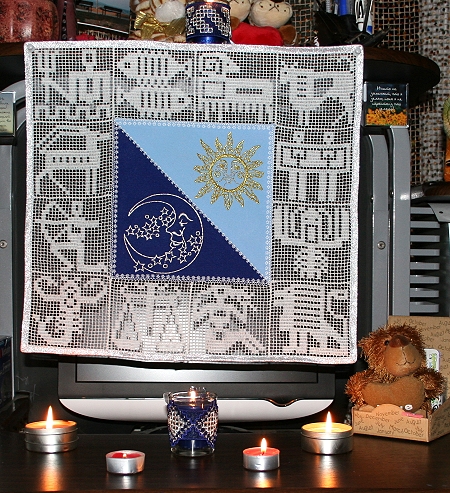 You will need a 12" x 12" piece of light blue cotton, a 12" x 12" piece of dark blue cotton fabric, Vilene stabilizer, 60-weight white cotton embroidery threads and silver bias tape. The finished size of the panel is about 16" x 16".
Step One: Place your fabric squares face to face. Align all sides. Draw a diagonal. Machine-stitch along the line and then cut away the excess fabric, leaving 1/4". Unfold. Press seam allowance to the darker side.
Step Two: Hoop the fabric with stabilizer and do the embroidery. Embroider the sun on the lighter triangle, and the moon on the darker triangle. If you use metallic threads, do not forget to change your needle.
Step Three: Finish the raw edges of the square. The finished size of the square should be 10" x 10". You can use a decorative stitch from your machine to accent the seams.
Before proceeding to Step Four, please read the General Guidelines and Step-by-Step Guide to Embroidering our Crochet-Style FSL designs.
Step Four: Embroider each design from the Zodiac Crochet FSL set.
Trim the stabilizer close to the designs, leaving at least 3/4" around each design. DO NOT dissolve the stabilizer now.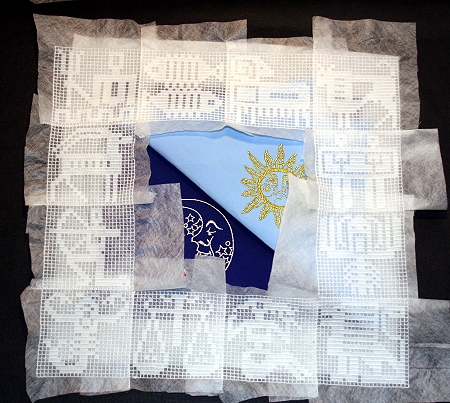 Please read the Step-by-Step Guide to Assembling crochet-style FSL Designs into a Project first.
Step Five: Stitch the FSL squares to each other first, then stitch the lace to the fabric. Use any bridge stitch from your machine.
You can now go ahead and dissolve the water-soluble stabilizer.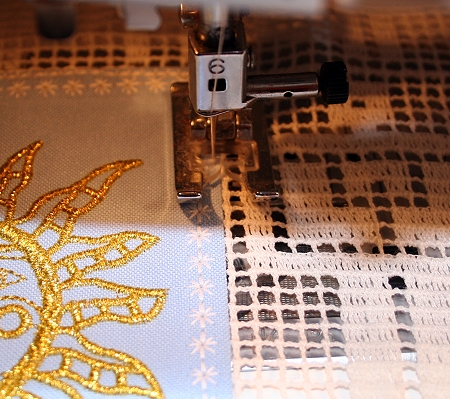 The doily is ready. Enjoy!
Here are more close-ups of the project: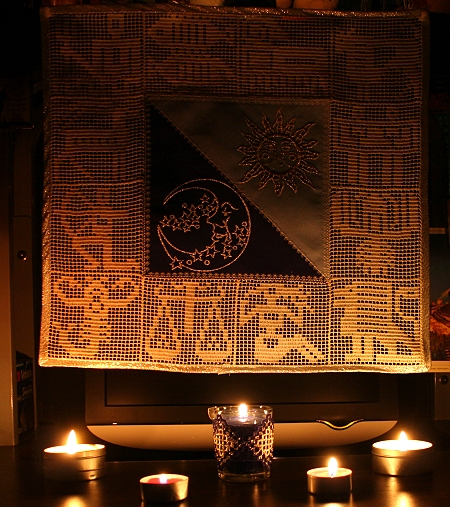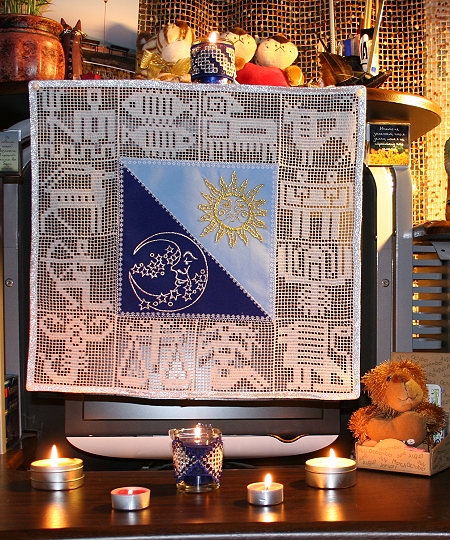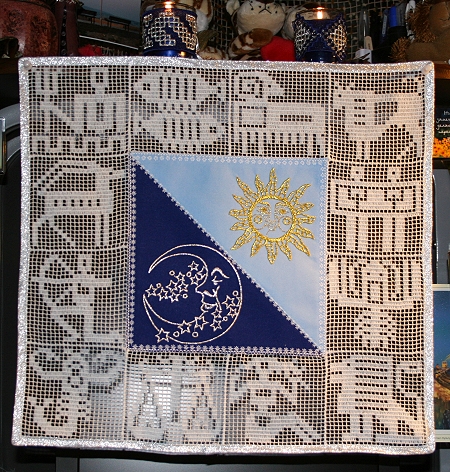 Back to Projects Page