A goldfish pond is beautiful and relaxing to contemplate on a summer evening. On the other hand, you can enjoy this quilted pond all year around! This is a fun, whimsical quilt that's easy to put together and leaves you lots of room to express your own creativity.

We used one-color designs from the Goldfish One-Color Set for the large (5" x 7") hoop, and 2 designs in the photo-stitch technique, Water Lily and Water Lily for the large and mega hoops.

The finished size is about 33" x 35".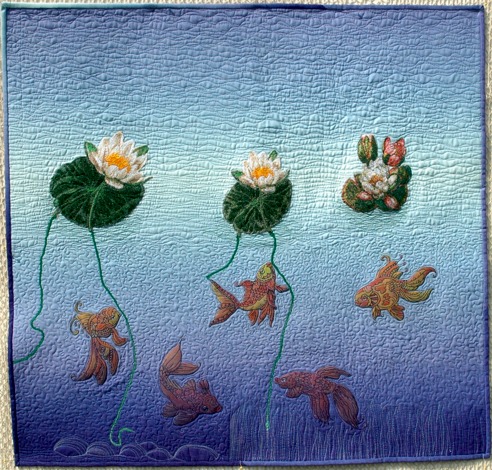 You will need

embroidery threads,
medium-weight cut-away stabilizer,
water-soluble mesh stabilizer and organza,
about 1 yard of blue fabric; we recommend


Kaufman Artisan Handpaints Ombre Stripe Nightfall (

#

0404445) or




Essential Gradations Ombre Ultra Blue

(#

0292338) or any other cotton fabric with similar color changes; alternatively you can piece the background out of strips of 5-7 different blue hues;

Steam-a-Seam2 (or similar product) - a double-sided adhesive and fusible film, or fabric glue;

backing and bating,
fabric coloring pencils, markers, or dyes (optional).
Cutting

:

This is a wholecloth quilt. From the piece, cut 4 strips 2 1/2" wide and the length of the width of the fabric for the binding. Use the remaining fabric for the quilt.
Embroidery:
Upload the photo-stitch designs of water lilies into the machine. Print out the color-cards. Select and prepare threads.

Hoop organza with 2 layers of watersoluble mesh.

Embroider the designs.

Cut away the excess stabilizer. Place the stitch-outs in a bowl of lukewarm water to dissolve the remaining stabilizer.

Leave the stitch-outs to air dry.
Print screenshots of the fish designs. Cut them out and with their help decide where you want to place each fish on the quilt..

Embroider the fish one by one.

Below is one of the stitch-outs after applying some fabric dyes.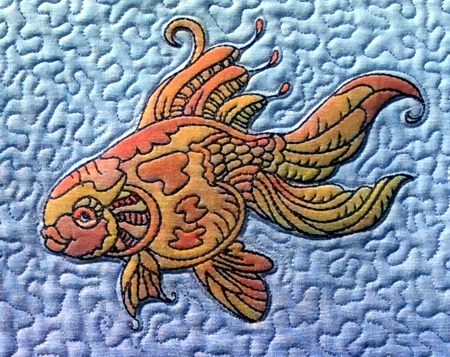 Lay the water lily stitch-outs out above the fish on the quilt top.
Using either fabric glue 0or fusible film, attach the lilies to the fabric.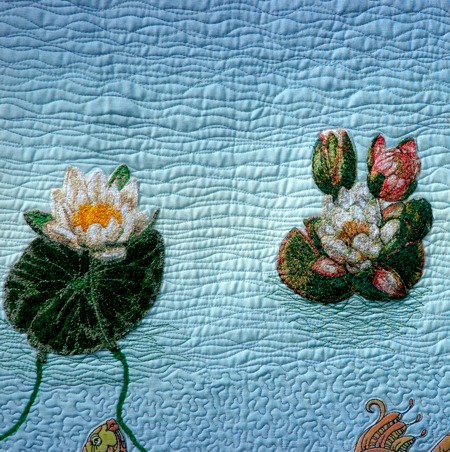 Quilting and Finishing:
Now place the backing on a flat surface (table) face down. Cover with batting. Spread your working piece over it.

Pin all three layers together with 1" pins and start quilting. We quilted with a meandering pattern around the fish embroidery and all "underwater" parts of the quilt and in a freemotion style imitating waves on the upper part of the quilt.
After the quilting is finished, press the work with heavy steam and square the work -- all corners should be 90 degrees and opposite sides should be of the same length.

Finish the raw edges with the binding.

Using fabric dyes, add some color to the fish.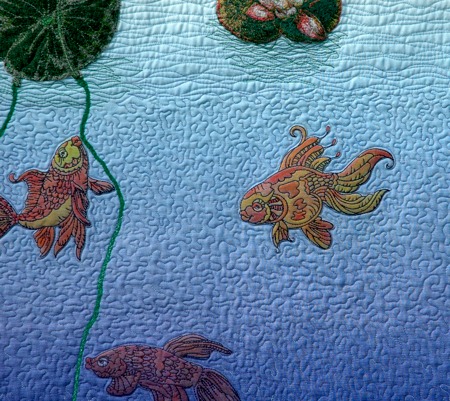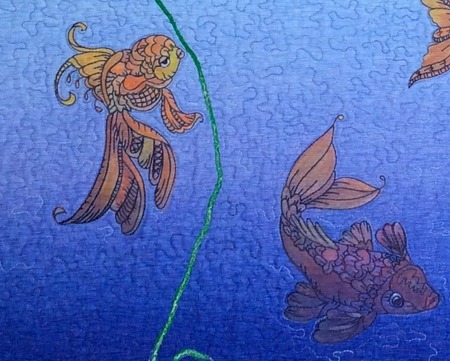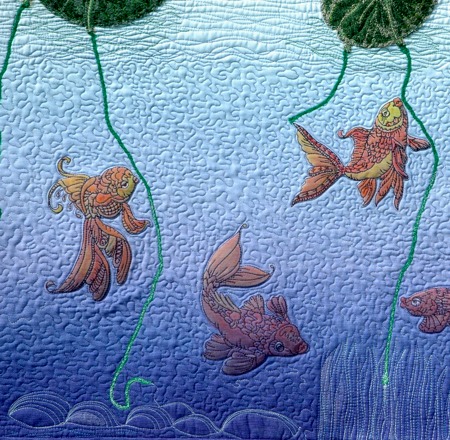 Your wall quilt is done. Enjoy!

Back to Goldfish One-Color Set, Water Lily and Water Lily
Back to the Project Page