Baby Animals Set
(Now 25% Off!)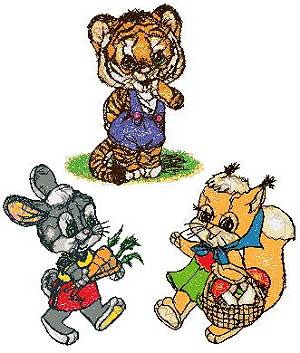 Machine embroidery set of 3 designs in photo stitch technique.
Tiger:
Size: 77.4 x 100 mm (3.03" x 3.94")
Stitches: 24809
Colors: 9
Rabbit:Size: 77.4 x 100 mm (3.03" x 3.94")
Stitches: 25370
Colors: 9
Squirrel: Size: 77.9 x 100 mm (3.06" x 3.94")
Stitches: 25439
Colors: 10
Old Price: $11.50
New Price: $8.63
SKU#: 14128
View Your Shopping Cart
Projects & Ideas
Designs from this set can be used to create a greeting card similar to this one. Unlike our other greeting cards, this one was created using an applique. The appliqué was glued to a piece of stiff paper and glued into the card mount.
This photo was sent in by Dunia McMaster from Cape Town, South Africa as her Best Project Contest 2006 entry. To read more about the project go to the customer's page.
Browse Similar Designs by Category: